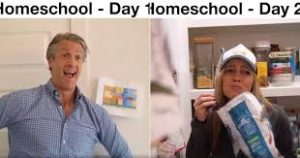 The Christian Post reports that from the CDC, the fact that many student have been forced to essentially practice a variant of homeschool has caused risks to 'mental health'.
Children who are learning through virtual instruction face "more risks" to their emotional and mental health than children receiving in-person instruction, according to a study by the Centers for Disease Control and Prevention.

The CDC study, released Friday, analyzed children aged 5-12, breaking them up into categories of virtual learning only, in-person only, and combined virtual and in-person learning.

The study drew from a nationwide sample of 1,290 parents of children aged 5-12 conducted Oct. 8 to Nov. 13, 2020, with 92.9% of the students enrolled in public school.

Of the sample, 45.7% of the children had virtual instruction, 30.9% of the children had in-person instruction, and 23.4% had combined virtual and in-person instruction.

Researchers found that most of the indicators for "stress and well-being" regarding child mental health were "worse for parents of children receiving virtual or combined instruction than were those for parents of children receiving in-person instruction."

"Children not receiving in-person instruction and their parents might experience increased risk for negative mental, emotional, or physical health outcomes and might need additional support to mitigate pandemic effects," stated the report.

"Community-wide actions to reduce COVID-19 incidence and support mitigation strategies in schools are critically important to support students' return to in-person learning."

The study noted that parents of children receiving virtual instruction were more likely than parents of children receiving in-person instruction to report that their kids having decreased physical activity (62.9% versus 30.3%), outdoor time (58.0% versus 27.4%), in-person time with friends (86.2% versus 69.5%), and worsened mental or emotional health (24.9% versus 15.9%). (source)
An interesting report. Since students learn in different styles and ways, and considering how the American school system often functions as an unspoken but surrogate babysitter for too many parents who generally do not care for their kids save in the evenings, mornings, and on weekends and who are quick to throw their children onto a bus to have another person deal with them, it is not a surprise that forcing parents to take a more proactive role in educating their offspring would cause some form of tension.
However, what is interesting is that such calls about 'mental health' lead one to wonder, with increasing pressure being put for national homogenization in public opinion, that if there is more here than just concern about 'mental health'. In other words, just as the changed taking place under COVID is being used for far more things than just disease prevention, but social engineering, are we looking at the same thing here, but in a different way? Homeschooling, for all its challenges, is a taking of authority of children's education into the hands of the parents more so than from an outside party. Could we be seeing, perhaps a long-term preparation, for the introduction of laws to restrict or make more difficult the homeschooling process?
One cannot be sure, but it will be interesting to watch what the future brings.