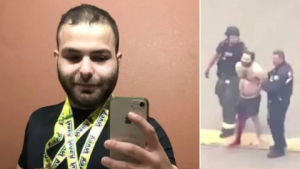 Details are finally emerging about the Colorado mass shooter, which based on the name, appears to be a Muslim male named Ahmad Al-Issa.
The suspect in the mass shooting at a grocery store in Boulder on Monday has been identified as 21-year-old Ahmad Al-Issa from Arvada. Ten people, including one police officer, were killed at the King Soopers store at Table Mesa Drive and South Broadway.

Al-Issa was shot in the leg by a Boulder police officer and was taken into custody. He is in the hospital and officials said his condition is stable.

Al-Issa has been charged with 10 counts of murder. There is no information about a possible motive at this time.

No photograph of the suspect is available. He will be booked into the Boulder County Jail when he is released from the hospital. Officials said they expected that to happen Tuesday afternoon.

Investigators believe there are no other suspects involved in the shooting.

Boulder Police Chief Maris Herold identified the officer who died as 51-year-old Eric Talley. She says he was first to arrive at the scene and called his actions "heroic." Talley was a father of seven. (source)
We will have more details on this story as they emerge.