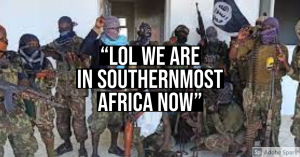 When an Islamic terrorist living a short airplane flight or boat trip to Europe or Israel talks about attacking the "West" or Israel and brags before the world, should he take as many opportunities has he can to attack either one? If one answered yes, that would be incorrect, for instead, the more 'sensible' answer is to travel thousands of miles south to the southernmost regions of Africa to attack a natural gas complex and take responsibility for it.
Days of fighting in a key city in Mozambique's north have left dozens of civilians dead as security forces battled to turn back an assault by suspected Islamic State-linked insurgents.

Hundreds of militants last week attacked Palma, a northern coastal city in Cabo Delgado province that acts as a hub for a vast liquefied natural gas project worth tens of billions of dollars. The project, scheduled for completion in 2024, is led by the French energy group Total, and includes industry partners from India, Japan, Mozambique and Thailand.

At one point in last week's fighting, as many as 200 foreign workers were reportedly trapped between security forces and the insurgent group. Hundreds of people were being evacuated by boat to the port city of Pemba, about 150 miles south, a diplomat and an aid worker told Reuters.

There has been no claim of responsibility for the assault, and the government has not identified the assailants by name or group. However, the attackers are widely believed to be from a group that locals refer to as al-Shabab, although the insurgents don't appear to have any direct link to the Somalia group of the same name. (source)
Now this is a real story, and I wrote it with an 'edge' because I hope to illustrate a point I have made many times before. one needs to ask why ISIS would travel thousands of miles across the world, to fight what is arguably a corporate-geopolitical target, rather than assert her own regional interests. It makes no sense at all, but that assumes that ISIS is working for herself, and is not just a paid group meant to polarize and serve as a third-party mercenary group for its backers. Noting the rise in trends for violence in Mozambique and her position as a Chinese stronghold in Africa, and considering that the US is planning for war with China in the future, knowing that ISIS and other Islamic were terror groups funded by the US such as through Operation Timber Sycamore, it makes this incident, as well as the 'rise' of ISIS in Mozambique seem more than suspicious.