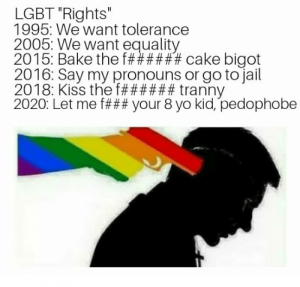 It was coming for years, in spite of all the warnings that few cared to heed. As many have noted, the pro-sodom lobby has made clear that it wants to force sodom on the nation, including Christians to accept it in spite of moral objections and the legal objections they are permitted. This is because it is not about actual 'freedom' and choice, but about power, and it always was.
A report that came out and is not a surprise says that
As the debate about the Equality Act continues on Capitol Hill, a group of Christian college students is suing the U.S. Department of Education, arguing that the religious exemption to Title IX is unconstitutional because it permits discrimination against LGBT individuals.

The Religious Exemption Accountability Project, an activist organization that "empowers queer, trans and nonbinary students at more than 200 taxpayer-funded religious colleges and universities that actively discriminate on the basis of sexual orientation and gender identity/expression," filed the lawsuit Monday in an Oregon federal court.

The lawsuit was filed on behalf of 33 current and former students at 25 Christian colleges that receive funding from the U.S. Department of Education. The plaintiffs claim that the religious exemption tax-funded Christian schools receive for Title IX discrimination law is unconstitutional because it permits LGBT discrimination.

The lawsuit, Elizabeth Hunter et al. vs. U.S. Department of Education, is named after one of the plaintiffs who is a former student at Bob Jones University in South Carolina. Other plaintiffs went to or attend schools such as Baylor University in Texas, Union University in Tennessee, Nyack College in New York, Fuller Theological Seminary in California and Azusa Pacific University in California.

"REAP's lawsuit asserts the constitutional and basic human rights of LGBTQ+ students, seeking to end the sexual, physical and psychological abuses perpetrated under the religious exemption to Title IX at thousands of federally-funded schools, colleges and universities across America," the non-profit organization's website states.

As explained on the Department of Education's website, "Title IX generally prohibits a recipient institution from excluding, separating, denying benefits to, or otherwise treating students differently on the basis of sex in its educational programs or activities." However, "Title IX does not apply to an educational institution that is controlled by a religious organization to the extent that application of Title IX would be inconsistent with the religious tenets of the organization."

The organizers of the REAP lawsuit hope to eliminate the religious exemption.

"The Constitution guarantees equal rights for all Americans, holding space for religious belief and practice, while ensuring that religion does not serve as a government-funded vehicle to harm racial, ethnic, gender, sexual, religious or other minorities," the organization argues. "Government action that ignores this central principal [sic], including the religious exemption to Title IX, is unconstitutional and must be remedied immediately."

The REAP lawsuit rests on the belief that Title IX protections passed in 1972 to provide equal opportunities for women in education and prevent discrimination based on sex in education also apply to sexual orientation and gender identity. (source)
This trend is not going to end, because ultimately, it will be about stripping all religious exemptions and protections for criticism of the LGBT from Christians, and then criminalizing Christian morality that will have the effect of outlawing Christianity. The is the end goal, and given the tremendous support of sodom in society, it is being aggressively pursued and could potentially, in some form, be realized sooner than many would most likely imagine so.