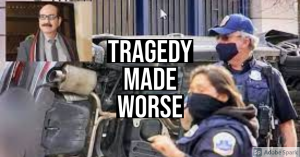 Sometimes, there are major abuses of the justice system. Such is what many are suggesting has happened after a horrible incident where an Uber driver, a Pakistani immigrant, was robbed with a weapon, had his car stolen, and was murdered by two teenage girls in Washington DC. The story made news around the world as well as the video that capture the horrible incident.
Now according to multiple reports, the two teens have received a plea deal allowing them to avoid prison time and serve time only in juvenile hall
Last week, the teens appeared via video in DC Superior Court as their lawyer and prosecutor, Bonnie Lindemann, discussed the case with Judge Lynn Leibovitz.

According to The Washington Post, Lindemann gave no indication that her office would try to transfer the older teen's case to adult court. Under DC law, the 13-year-old could not be prosecuted as an adult due to her age.

The judge set the next court date for April 20 to discuss the status of the case.

A video of the incident shows the encounter unfolding in a minute and a half, ending with Anwar's Honda Accord on its side, the girls climbing out and a fatally injured Anwar sprawled and motionless on the sidewalk.

Police have not identified the juvenile suspects, one of whom is from the DC and the other is from neighboring Fort Washington, Maryland.

Anwar, who lived in suburban Springfield, Virginia, was at his delivery job for Uber Eats when he was killed.

The 90-second clip begins with Anwar struggling to regain control of his car after the two girls made their way inside.

'They're thieves,' he is heard saying as he attempts to pull the girl out of the driver seat of the parked car. 'This is my car!' (source)
One can only wonder what would happen if various aspects concerning the individuals was different.
In any cases, this will be a case to watch, because with trends of racialism and social anxiety growing between different groups, it will be interesting to see what this case, in combination with incident such as the Derek Chauvin trial, will have for effects on the public.