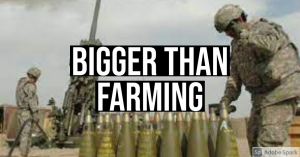 In the US, there is a lot of talk about how "big tech" has negatively influenced many people in the US, with people who are often poor and in the lower classes and struggling to make a living been crushed under the foot of policies created to advance industrial and government interests with no respect whatsoever for the common man. Now this is not just a US phenomenon, but happens and is happening all over the world, such as according to one report from Taiwan by way of the New York Times, where farmers are having their water shut off by the government in order to favor Taiwan's national microchip maker.
This year, Mr. Chuang is paying the price for his high-tech neighbors' economic importance. Gripped by drought and scrambling to save water for homes and factories, Taiwan has shut off irrigation across tens of thousands of acres of farmland.

The authorities are compensating growers for the lost income. But Mr. Chuang, 55, worries that the thwarted harvest will drive customers to seek out other suppliers, which could mean years of depressed earnings.

…

More than 90 percent of the world's manufacturing capacity for the most advanced chips is in Taiwan and run by TSMC, which makes chips for Apple, Intel and other big names. The company said last week that it would invest $100 billion over the next three years to increase capacity, which will likely further strengthen its commanding presence in the market.

TSMC says the drought has not affected its production so far. But with Taiwan's rainfall becoming no more predictable even as its tech industry grows, the island is having to go to greater and greater lengths to keep the water flowing.

In recent months, the government has flown planes and burned chemicals to seed the clouds above reservoirs. It has built a seawater desalination plant in Hsinchu, home to TSMC's headquarters, and a pipeline connecting the city with the rainier north. It has ordered industries to cut use. In some places it has reduced water pressure and begun shutting off supplies for two days each week. Some companies, including TSMC, have hauled in truckloads of water from other areas.

But the most sweeping measure has been the halt on irrigation, which affects 183,000 acres of farmland, around a fifth of Taiwan's irrigated land.

"TSMC and those semiconductor guys, they don't feel any of this at all," said Tian Shou-shi, 63, a rice grower in Hsinchu. "We farmers just want to be able to make an honest living."

In an interview, the deputy director of Taiwan's Water Resources Agency, Wang Yi-feng, defended the government's policies, saying the dry spell meant that harvests would be bad even with access to irrigation. Diverting scarce water to farms instead of factories and homes would be "lose-lose," he said.

When asked about farmers' water troubles, a TSMC spokeswoman, Nina Kao, said it was "very important for each industry and company" to use water efficiently and pointed to TSMC's involvement in a project to increase irrigation efficiency.

That Taiwan, one of the developed world's rainiest places, should lack for water is a paradox verging on tragedy.

Much of the water used by residents is deposited by the summer typhoons. But the storms also send soil cascading from Taiwan's mountainous terrain into its reservoirs. This has gradually reduced the amount of water that reservoirs can hold.

The rains are also highly variable year to year. Not a single typhoon made landfall during last year's rainy season, the first time that had happened since 1964.

Taiwan last shut off irrigation on a large scale to save water in 2015, and before that in 2004.

"If in another two or three years, the same conditions reappear, then we can say, 'Ah, Taiwan has definitely entered an era of major water shortages,'" said You Jiing-yun, a civil engineering professor at National Taiwan University. "Right now, it's wait and see." (source)
It would not be a surprise if the US is involved in this, and for practical, self-interested reasons, not simply to "hurt the little guy.'
The US right now is in a geopolitical struggle to prepare for a coming global war as are other major nations. One of them is China, who the US is likely going to fight in the future. There have been several consequences of this already, and one of them is the intentional throttling of microchip production by the Chinese, which has driven up electronics prices and created product shortages due to interrupted manufacturing. Because of this, the US markets have been affected negatively, but because of her relationship with Taiwan, another major microchip producer, and the fact that development of the 'tech-industrial' sector in southeast asia and India has been assisted by the US, she seems to be hoping to compensate long-term for this difference.
As such, she needs as many chips as she can get, and because Taiwan does not like China but has US support, Taiwan will do everything she has to in order to stay in the good grace of the US. Remember that after decades of backing the Chinese nationalist (right wing) Chiang Kai-Shek, and following the rise of Communist China, Chiang fled to Taiwan and hence the "two China" controversy that has existed since then.
The plight of the farmers is real, and it is a sad thing. A similar series of events has been happening in India, which has created a suicide crisis as well as resulted in massive protests from farmers losing their livelihoods.
It is very wrong what is happening with the farmers, but the reason is not one of simple 'hatred' or just a favoring of business over people. It is because the behavior of the businesses is being supported by the governments, which are conducting themselves in such a way because it is a reflection of the long-term trend towards a global war and preparing for it.