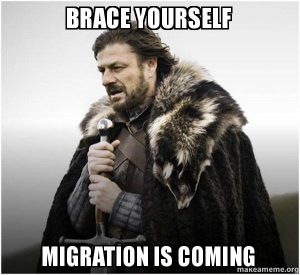 East Africa is on the edge of a a starvation crisis right now, caused by years of fighting in the Sahel region between Islamic terrorist groups and local governments, of which the US and France have been curiously involved. However, the worst situation is in East Africa, where following the Tigray conflict, millions have been displaced, and according to the Christian Post, seven million sit at the edge of starvation.
Over 7 million people across six East African countries are at the cusp of starvation as communities have faced existential threats from violence, flooding, the pandemic and locust infestation, the evangelical humanitarian organization World Vision has warned.

According to the charity, which operates in nearly 100 countries, thousands of children could face death or long-term health consequences if the international community does not respond quickly to East Africa's worsening crisis.

Debebe Dawit, program manager for World Vision's humanitarian emergency affairs team, recently visited Ethiopia and saw firsthand the effects of poverty in the East African country. He said the situation is "severe."

"The situation is very severe in East Africa, and particularly Ethiopia. Over 2 million people are in need of food assistance," Dawit told The Christian Post in a Thursday interview. "Among conflict, COVID-19, flooding, locust infestation, all these are adding [an] additional burden to the community."

Before the pandemic began, several countries in East Africa faced a widespread desert locust infestation that impacted hundreds of thousands of hectares and damaged croplands and pastures.

Later in 2020, large-scale floods destroyed crops that were ready to harvest, which impacted the food supply for 4 million people in the region, World Vision reports.

Matters have also been complicated by military conflicts — most recently the Tigray conflict — and the rise of Islamic extremism.

To address the starvation and poverty crisis in East Africa, World Vision launched a multi-country emergency response for Ethiopia, Somalia, South Sudan, Sudan, Kenya and Uganda. The goal is to reach 2.4 million people, which includes 490,000 children.

Lack of funding is the key element that prevents a faster response.

"At the end of the day, it will come [down] to resources," Dawit acknowledged.

World Vision's intervention is primarily focused on the immediate needs of the children, he said.

"The long-term effect of malnutrition especially hinders a child's development and ability to reach their "God-given potential," World Vision CEO and President Edgar Sandoval Sr. said in a statement.

"It's heart-breaking that the lives of millions of children in East Africa are at risk due to a perfect storm of conflict, changing or unpredictable weather patterns, and the aftershocks of COVID-19." (source)
The Tigray situation is very, very bad, and while attention has been given to it earlier this year, Tigray is not going away. In fact, as we have said, it has the potential to become another year-2015 type migration crisis, remembering too that the crisis then also largely saw migrants fleeing from East Africa to Europe.
If this happens, it will spark a wave of nationalism that may start a formal transition to militarism, as many people are angry and tired of 'migrants' and their presence is being used intentionally, it seems, to exacerbate the sociopolitical climate to the extreme edge of conflict.
While the US is preoccupied with Biden, 'racism', and other distractions, this is a major crisis that is being conveniently overlooked, and if it does result in mass migration, it will shock the world.