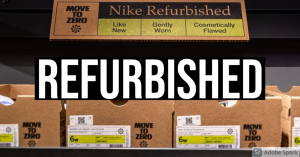 With a trend of rising prices, increasing poverty, and yet the same human desires (to be able to eat good food, to look fashionable, and so on) remaining consistent, in the future, people are going to want to look good on the cheap or as cheap as possible. Brand names will not disappear, but people will want the same things for cheaper.
The US may have the image of wealth, but as evidenced by the COVID pandemic, the fact is that the people are getting poorer as jobs have decreased, wages stagnated or decreased and and the value of the money itself declined. Most of this emphasis has been, as I have noted, in the foods industry, because people need to eat and while costs can be hidden, it becomes difficult to do this.
However, it can't stay hidden forever. According to a recent change from the Nike Corporation, the sneaker giant is now selling 'refurbished sneakers'.
Nike has launched a program that will give a "second life" to returned shoes, an effort to address the consumer concern over climate change and environmental degradation.

Nike Refurbished will use tools to make shoes that are "like new," those that have only had a couple of wears, " or "gently worn" merchandise as close to new condition as possible," the company says.

Shoes should be returned within the 60-day window. Once they're placed back on store shelves, items will be marked with information about the renewed shoes, and they will be priced based on style and condition.

See: ThredUp CEO on IPO day: Don't tax resale and Amazon's speed is a fading trend for young shoppers

These items can also be returned within 60 days.

Returned items that don't make it back on the shelf will become part of the Nike Grind program, which destroys merchandise so it can be used to make things like rubber flooring, outdoor courts and other shoes.

Nike Refurbished is launching in 15 stores across the U.S., but will expand to others.

Nike is launching this latest "circular consumer offering" at a time when resale and secondhand items are finding renewed life with consumers eager to do their part to save the environment.

According to the ThredUp 2020 Resale Report TDUP, -8.17%, the secondhand market will reach $64 billion by 2024, and is expected to overtake fast fashion, which has a reputation for packing landfills, by 2029. Forty percent of Gen Z shoppers bought secondhand clothes, shoes or accessories in 2019, and 30% of millennials did that year.

"Companies face increased public scrutiny about the industry's environmental impact," wrote Moody's in a fashion and retail apparel report published this month.

"Responsible production is the biggest social risk, forcing companies to embrace
sustainable supply chain practices and transparency. Companies which want to
avoid reputational risk will prioritise embracing responsible sourcing strategies."

"More environmentally and socially aware customers are driving the emergence of new business models such as renting or buying secondhand apparel," the Moody's report said, highlighting interest from younger consumers.

"Apparel companies will need to increase investment in product quality and sustainable materials. Fast fashion, mid-priced and small discount companies with limited resources or weak capital structures are the most at risk from these changing customer habits."

BMO Capital Markets sees opportunity for Nike, and possibly others, as the retail landscape grows to include consignment, marketplaces, direct-to-consumer channels and more.

"We continue to expect resale remains in its relative infancy and believe this is only the beginning," analysts said. (source)
This isn't about 'recycling', unless one means 'recycling profits'.
Sneakers- as with any part of brand-name fashion -is high dollar business. However, people can't afford the high prices. This can be mitigated, however, by "reselling" the same product, a trend that has been going on since 2008 following the economic crash with the emergence of 'upscale' thrift shops and the like.
People want to look good. They always will no matter what the culture is. NIKE is just riding that trend and growing it, which while not exactly 'new', marks the continued transition of the US from the image of wealth to the reality of mass poverty for the masses, and trying to stay profitable and relevant amid the changes, for considering how the Consumer Price Index (CPI) is already increasing and will increase for the future, money will become harder to come by, and people will have to be very discerning about what dollars they have and what they choose to spend them on.