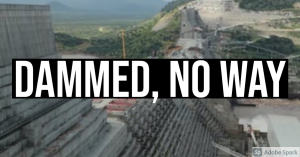 Last year, Egypt's population reached 100 million, for the continually growing African crossroads between the Middle East, East, Africa, and North Africa by land, and Europe by sea puts her in a critical position in the world. At the same time, Egypt is also a very poor country plagued by corruption and most importantly, an inability to feed herself from her own resource, and so continually stands at the edge of revolution.
According to recent news, the Russian foreign minister met with Egyptian President Sisi to discuss Egypt's concerns over Ethiopia's Nile Dam.
Russian Foreign Minister Sergey Lavrov visited Egypt this week to discuss Cairo's concerns over Ethiopia's Nile Dam, as well as joint infrastructure cooperation and defense ties.

Lavrov arrived in the Egyptian capital Sunday to meet with President Abdel Fattah al-Sisi and Lavrov's counterpart, Sameh Shoukry.

Among the topics of discussion was the El-Dabaa nuclear power plant being built by a Russian firm northwest of Alexandria and a nearly $7 billion Russian industrial zone in Port Said near the Suez Canal.

During a press conference Monday following their meeting, Lavrov and Shoukry said they also discussed the civil war in Syria, where Russia has supported President Bashar al-Assad and pushed for countries to reestablish ties Damascus after a decade of civil war. Egypt recently joined the United Arab Emirates in questioning Syria's 2011 expulsion from the Arab league.

Lavrov also discussed Libya's stalemated conflict, one of particular interest to Cairo as the conflict lies just beyond Egypt's western border.

Shoukry in the press conference suggested Cairo is seeking Russia's support in Egypt's dispute with Ethiopia over the Grand Ethiopian Renaissance Dam.

The Egyptian foreign minister said his government relies on Russia "to push parties to refrain from unilateral actions," in likely reference to the Ethiopian government's promise to fill the dam's reservoir for a second time before July without coming to agreement with downstream countries Egypt and Sudan.

The latest round of talks over the dam fell through last week as Egypt ramped up pressure on Addis Ababa with a military show of force. Egyptian officials blamed Addis Ababa for refusing outside mediation.

Egypt is facing lesser support from the new US administration of President Joe Biden after enjoying strong backing from the Trump administration on the dam.

Lavrov on Monday said his government had not been asked to mediate the talks, but said he supported a settlement led by the African Union to the crisis.

Sisi also discussed military and security ties with Lavrov, according to a statement by Sisi's office.

Sisi, a former top general who overthrew, with broad popular support, Egypt's first democratically elected president in a 2013 coup, was highly praised Donald Trump when Trump was president.

Russia has made significant inroads into supplying Egypt with military arms, moving forward a deal to transfer some two dozen Su-35 fighter aircraft to Cairo despite the threat of economic sanctions from Washington.

Sisi's 2013 coup and subsequent bloody crackdown on dissent led to a rift with the US administration of President Barack Obama, which suspended certain arms sales to Egypt until 2015.

Egypt's government has continued to diversify its purchases of foreign military arms, also purchasing fighter jets from France.

Lavrov headed next to Tehran, where he has coordinated with Iran's government over its ongoing negotiations with European Union countries over an eventual return to compliance with the 2015 nuclear agreement with the United States. (source)
Ethiopia and Egypt have been fighting for years over the construction of a dam in Ethiopia on her side of the Nile, which holds one of two sources for the river (the Blue Nile part). Egypt deems most attempts to do anything to the Nile to be a direct threat to her interests, since she is at the "bottom" of the river as it flows and is most vulnerable to any changes. Egypt will make a legal argument about this based on a 1929 treaty with the British allowing Egypt to veto changes to the Nile that she believes may threaten her interests, to which Ethiopia responds that those apply to the White Nile, and not her part, which is the Blue Nile. Relations have also deteriorated so much that violence has been threatened between the two nations.
In November 2020, I wrote a piece about Ethiopia-Russian relations, noting that Ethiopia is both a historical power in East Africa as well as is known to maintain good relations with both the US/NATO and Russia/USSR alike, and how she has relations with Russia that go back centuries. During the 20th century, Russia eventually overthrew the ruler Haile Selassie after failing to, in their accounting, fully 'pull' him to 'their side', and replaced him with the Communist Derg dictatorship, to which the US and NATO gave strong support to already existing separatists groups in Tigray, of which that conflict has extended through today and is part of the current Tigrayan crisis.
I noted there is a possibility that there could be a US/NATO style intervention in Tigray, in the name of 'human rights'. In the context of Egypt, we know that after Israel, Egypt is the next largest recipient of US foreign aid, and this is for geopolitical reasons.
Egypt wants all the water they can get. They don't want Ethiopia putting up any dams. They are also meeting more closely with the Russians, which the US/NATO does not support. Considering that Russia has long ties with Ethiopia, one may wonder if Egypt is asking Russia to talk to Ethiopia.
It is not that Egypt is going to "pressure" Russia at all, or the US/NATO for that matter. What seems to be here is a matter of interests, and in the view of the US/NATO, if they can keep some relative control over Egypt for the time.
Returning to earlier, if the US and NATO- as now the US will NEVER go anywhere without NATO because of the rebalancing of the power distribution that is going to happen in the future -declare that Tigray has been suffering at the hands of 'horrible human rights abuses', such as which the news media has been quietly but consistently reporting one, then they can seize control over any access to an Ethiopian dam with 'humanitarian intervention' and prevent it from being built, thus pacifying Egypt. The Russians would side with Ethiopia, but considering the number and nature of objectively horrible crimes taking place in Tigray, which there is legitimate blame that can be placed on Ethiopia and Eritrea for it, means that Russia will have a hard time backing them without appearing as thought they are backing a real 'bad guy'. Thus support will most likely be verbal, and limited to some weapons shipments or small operations, but unlikely a lot more. This would also give Europe a foothold in East Africa again, as she did so during the late 19th and early 20th century leading up to World War I. This is not to mention the ability to help further secure not just mineral operations, but new oil pipelines that the French are building in nearby Tanzania.
Given these conditions, it is not unreasonable to suspect that if Egypt does not have another "revolution"- and a pro US/NATO one -there may be a hastening of events in Tigray to make sure that the current status quo is the same and if not, becomes more amenable to the US/NATO side.