Pro-LGBT activists in Serbia want to have their pride rallies, and in the process of this a gay activist in Belgrade wrapped himself in the gay flag mocking Christ:
The Guardian headlined a article on the clashes between police and Christian demonstrators with a photo of mocker: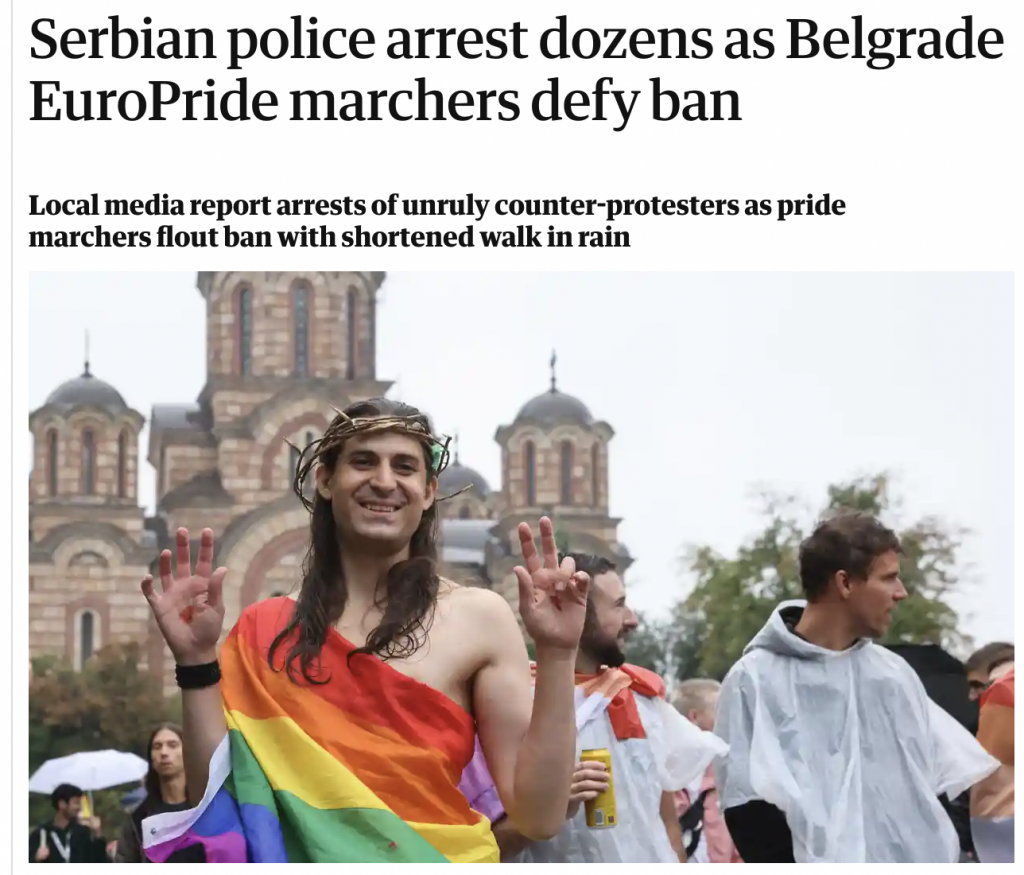 Serbian Christians demonstrated against the LGBT clashed with the police and there is video showing this:
https://twitter.com/Klaus_Arminius/status/1571233618265079811?s=20&t=CgjwNQriUojSe5ZUHz89Gw
🚨🇷🇸#SERBIA is Falling!
Thousands of Christian fundamentalists and Serbian fascists attack a few peaceful #LGBT people in their Pride March in Belgrade this afternoon. Several LGBT activists were critically injured. #BelgradePride pic.twitter.com/LXma6Dw6lH

— Terror Alarm (@Terror_Alarm) September 17, 2022
According to Reuters:
Police clashed with right-wing protesters on Saturday as several thousand people joined an LGBTQ march in Serbia to mark the end of EuroPride week, an event staged in a different European city each year.

Police clashed with two right-wing groups trying to disrupt the march, Prime Minister Ana Brnabic said, adding that 10 police officers were slightly injured, five police cars damaged and 64 protesters arrested.

"I am very proud that we managed to avoid more serious incidents," Brnabic, who herself is Serbia's first gay prime minister, told reporters.

Following protests by nationalists and religious groups, the government had banned the march last week. But faced with calls by European Union officials and human rights activists, it allowed a shortened route for the march.
The Guardian reported:
Serbian police arrested more than 64 people as thousands of LGBTQI+ activists turned out for Belgrade's EuroPride march on Saturday, despite a government ban.

The event had been intended as the cornerstone event of the EuroPride gathering. But the interior ministry banned the march earlier this week, citing security concerns after rightwing groups threatened to hold protests.

Although the march took place without serious incident, local media said clashes broke out between counter-demonstrators and police.

The Balkan country's prime minister, Ana Brnabić – who is openly gay – said 64 people were arrested and 10 police officers injured on Saturday, but underlined that she was "proud" that the day ended with "no major incidents".