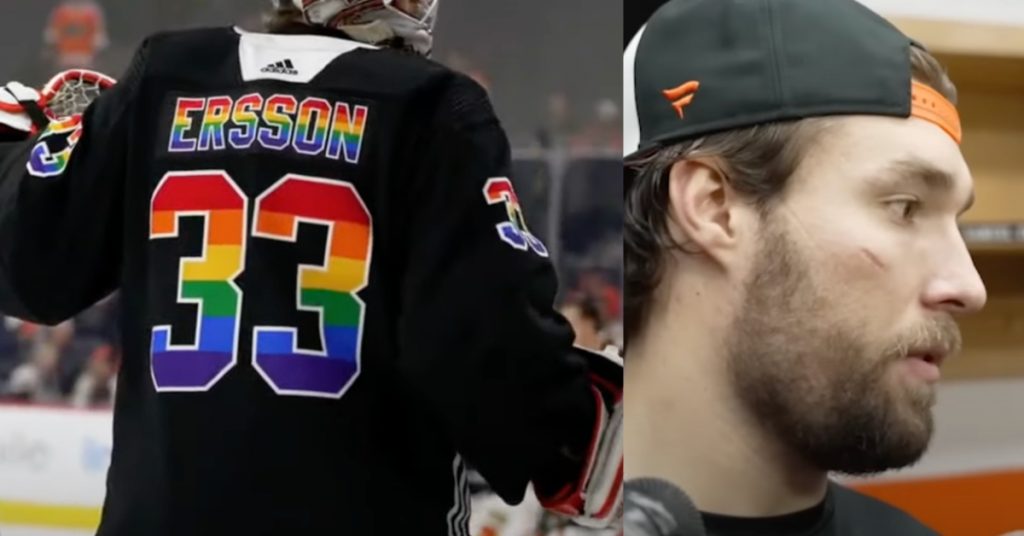 A Russian Orthodox hockey player, Ivan Provorov, refused to partake in a "pride" charity event and put on an LGBT jersey. While his team allowed him to exercise his conscience, supporters of Sodom were enraged by this, telling him to go back to where he came from and urging his team to be sued for a million dollars. Here is a video of EJ Hradrek, an NHL commentator,  gave an emotional rant about how Provorov should go back to Russia for refusing to partake in the alphabet cult:
A man expresses his Christian beliefs and exercises his conscience? GO BACK TO WHERE YOU COME FROM!!! https://t.co/zylmF3zb9Z

— Theodore Shoebat (@theodoreshoebat) January 19, 2023
Hradrek says that to partake in an LGBT event is to integrate into American culture. Well, many Americans defied this by buying Provorov's jersey which is now sold out. Here is a video of another babbler for Sodom saying that Provorov's team should be sued for a million dollars:
Refuse to put on the flag of Sodom? FINE 1 GAZILLION DOLLARS!!!!! https://t.co/5E2QhSfpvw

— Theodore Shoebat (@theodoreshoebat) January 19, 2023
Well, now Provorov's jersey has sold out:
Ivan Provorov's jersey is now completely sold out on NHL Shop and Fanatics with the exception of extra smalls. pic.twitter.com/qEb3qF0IIN

— Greg Price (@greg_price11) January 19, 2023
According to the Daily Wire:
National Hockey League player Ivan Provorov's jersey was sold out on several websites in men's sizes on Thursday after the player did not take part in an LGBTQ event due to his religion earlier in the week.

As of Thursday afternoon, on the Fanatics and NHL Shop sites, the jersey did not appear to be available in men's sizes and was only able to be purchased in women's sizes. Other apparel seemed to be available for purchase, as were custom made jerseys.

Outkick reported that the men's jersey for the player was only available in an extra-small size on the two sites. Fanatics and NHL Shop were both saying the jerseys were "almost gone" for people to buy.
Even in America, the Russian is winning.