By Walid Shoebat
Reading the tweets of these Australian women makes one wonder why they are begging the U.S. led coalition forces to kill their husbands. Is it perhaps they want to get rid of them for lacking something or if these salve masters overwork them day and night, or even better yet, perhaps they are running out of virgins in the Islamic State in Syria and Iraq, so they want Allah to replenish the supply by make believe that their martyrdom sends them upstairs while ignoring the reality that they are all going deep down under.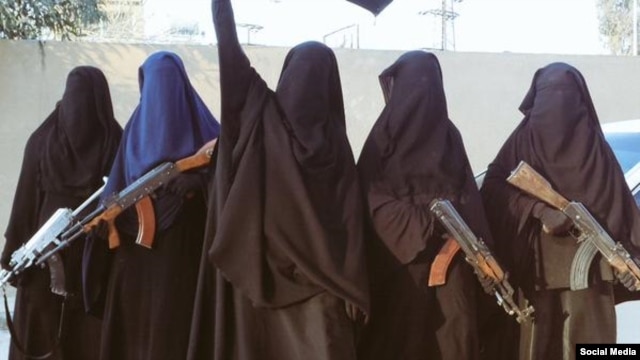 Umm Abdullatif (one of the girls above covered in a tent) tweeted yesterday:
"A

llhamdulilah [Praise be to Allah] all we wish for is our husbands [sic] blood to be shed for the sake of Allah."
Umm Abdullatif is an Australian woman with a few french fries short of a happy meal. She joined ISIS in Mosul. She was jubilent when  reports of the death of a fellow Australian militant who was killed fighting alongside ISIS in Syria this week.
Jannah is the Muslim paradise. Umm Abdullatif is hoping she "reunite with dem" in heaven. She must not have been reading her Quran and Hadith and her 'husband' is keeping these sacred writ far away from her.
Hey, Umm Abdullatif, Muslim husbands in heaven get seventy two mansions and on each mansion are seventy two rooms and in each room there are seventy two sheets and on each sheet there are seventy two virgins. This is a grand supply of virgins that Mr. Abdullatif has enough supply to last eternity. I have bad news, Islam teaches that a woman can choose of being with her husband in paradise if he so desires her. She could also choose a better man instead of him. Get some brains.
That Australian terrorist, known as Abu Jihad al-Australi, is thought to be 23-year-old Suhan Raham from the Melbourne suburb of Roxburgh Park, according to Australia's The Age.
As images of Abu Jihad's bloodied body were shared on social media yesterday, the women who knew him — including Umm Jihad, a woman claiming to be his wife — expressed not grief at his death, but contentment and even joy.
Umm Jihad, who tweeted an image apparently showing Abu Jihad's body, announced the death of her husband on Twitter. Abu Jihad had "fought in the front lines until he obtained shahadah [martyrdom]," she wrote.
Umm Jihad said she was "the most content I have ever been in my life."
Umm Jihad's nationality is unknown, but The Age reported that Raham is thought to have married a "jihadi bride" from the United States.
While Umm Jihad tweeted about her sense of contentment, Umm Abdullatif called on Western Muslims to carry out terror attacks in their home countries. "Kill Kuffar [infidels] in alleyways, stab them and poison them. Poison your teachers. Go to haram [forbidden] restaurants and poison the food in large quantities," Umm Abdullatif tweeted.
Muslim women in the West would not be deterred from sending their husbands to fight in the Middle East, Umm Abdullatif added. "Our husbands die in frontlines but that doesn't stop women in the west from sending their husbands to kill kuffar. Attack: UK AUS & US," she tweeted.
Second Australian Killed
Abu Jihad al-Australi is the second man from Melbourne who has reportedly died in battle fighting alongside the IS group this month.
Australian teenager Jake Bilardi, who ran away from home to join the IS group in Iraq, is thought to have been killed in a suicide car bombing in the Iraqi town of Ramadi. Photographs posted on Twitter on March 11 showed a white van with an inset image of the alleged driver, who looked like Bilardi.
Australia's Department of Foreign Affairs has said that it has been unable to verify the deaths.
The Australian Security Intelligence Organization (Asio) warned in December that Australia is a significant source country for foreign fighters. Asio has identified around 70 Australians fighting in Syria and Iraq, from a total of about 3,000 Western militants.
That a distinct group of Australian IS militants exists in Syria was noted by Umm Jihad, who tweeted earlier this year that "there are soooo many Aussies and Brits here but where are the Americans, wake up u cowards."
"Who knew my fate would be living amongst a bunch of Australians, full on m8 [mate]. Love my Aussie family xo," Umm Jihad wrote in another tweet in January.
Photographs posted to social media have shown a far grislier side of Australian terrorists in Syria and Iraq, however.
In August, an Australian man thought to be Sydney resident Mohamed Elomar was photographed holding aloft two severed heads.
Another terrorist, named as Khaled Sharrouf from Sydney, posted an photograph of his 7-year-old son holding a man's severed head. The photograph was thought to have been taken in Raqqa in Syria.
SOURCES