By Walid Shoebat
Turkey is building a case against the U.S. blaming the U.S. with the latest coup.
The story goes that it was former commander of NATO forces in Afghanistan, retired US Army General John F. Campbell who was the mastermind behind the failed military coup in Turkey.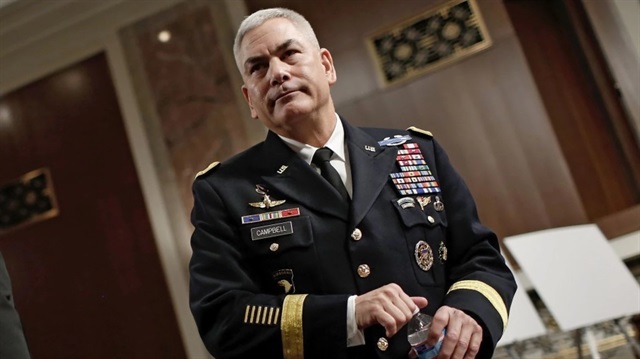 This is what Yeni Safak, Erdogan's mouthpiece newspaper
claimed
 that the general was "one of the top figures who organized and managed the soldiers behind the failed coup attempt in Turkey".
Yeni Safak also reported that Campbell "also managed more than $2 billion in transactions via UBA Bank in Nigeria by using CIA links to distribute among the pro-coup military personnel in Turkey."
Banks in Nigeria? And why is Erdogan blaming the CIA and not Obama? Doesn't Obama know what the CIA is doing? Or is it that Obama is Erdogan's buddy?
How they link all this is rather hilarious. They are saying that the retired US general had paid "at least two secret visits" to Turkey since May up to the attempted coup, which the Turkish authorities blamed on what they call the Fethullah Terrorist Organization (FETO).
The Turkish daily also reported that Campbell had top secret meetings at the Erzurum military base and Incirlik air base in Turkey, adding that the US general "directed the process of trending / blacklisting the military officers in the base."
The Turkish daily's conspiracy theory's narrative was set like this:
"Millions of dollars of money has been transferred from Nigeria to Turkey by a group of CIA personnel. The money, which has been distributed to an 80-person special team of the CIA, was used to convince pro-coup generals. After taking money from their bank accounts, the CIA team hand-delivered it to the terrorists under the military dresses."
And now Turkey's foreign minister, Mevlut Cavusoglu is threatening the U.S. and warned on Monday that ties with Washington could suffer unless they extradite the US-based cleric Fethullah Gulen, Erdogan's ideological adversary.
In other words, the message Turkey is sending is simple. They are threatening to use conspiracy theories to tell the U.S. that anti-U.S sentiments will grow in the Muslim world, unless the U.S. of course cow-tows to Erdogan's demands.
But what about the real conspiracy. Turkey detained 2,101 judges and prosecutors and 1,485 police officers. How were these connected to the CIA? What about closing 934 schools, 109 dormitories, 15 universities, 104 foundations, 35 health institutions, 1,125 associations and 19 unions? Was the U.S. behind all this and was Fethullah Gulen too a CIA agent?
Where are the billions paid by the CIA to Gulen? How then can Erdogan make such claims as:
"The FETO terror group, who are abusing people's tax money to purchase guns, tanks, warplanes, heavy weapons and use against the nation, are rascals, traitors and dishonest," Erdogan said last week, branding FETO "a virus that has metastasized."
Gulen was buying fighter jets?
Even Amnesty International sounded the alarm on Sunday, saying it gathered "credible evidence" that people arrested in relation to the failed coup attempt have been "subjected to beatings and torture, including rape, in official and unofficial detention centers in the country."
Amnesty International's Europe director, John Dalhuisen stated:
"Reports of abuse including beatings and rape in detention are extremely alarming, especially given the scale of detentions that we have seen in the past week. The grim details that we have documented are just a snapshot of the abuses that might be happening in places of detention".
This rape was by using batons. Just how close are we when Turkey resurrects its old Ottoman punishment, their dreaded Khazouk?
Hard to believe? Its easy if you try Dick. Erdogan is changing everything. Just today Turkey is announcing that they are "changing their constitution":
The biblical prophecy says that Antichrist "change set times and set laws". This is about to be fulfilled. In God's War On Terror, years ago we predicted "The Antichrist [in Turkey] will not only change constitutional laws, but civil laws as well" (see page 88)
Even the Bosporous Bridge has just been renamed today to "July 15th Martyrs Bridge".
BREAKING: Turkey renames Istanbul's Bosporus Bridge '15th July Martyrs' Bridge' in honor of civilians who died resisting coup attempt.

— The Associated Press (@AP) July 25, 2016
Today Yeni Safak also announced:
 The Turkish people staged a "second Independence War" during their resistance against the failed July 15 coup, a labor union leader has told Anadolu Agency in an exclusive interview.
This "second independent war" is the crux of Erdogan's call, to make a new independence where he is the Mahdi-Victor who reconquered Constantinople for Islam. The headlines from Turkey speak of a new era while the West simply look at this and say "its the Middle East and its just 'another failed coup'".
Really? Just take a look at today's headlines in Turkey:
The story of July 15th is a new era in Muslim history. According to Islam, Constantinople will be conquered by dedicated Muslims waged by Mahdi where Muslims will reconquer it with shouts of Bismiallah and Allahu Akbar. To learn about this in detail click here and smell the Turkish espresso. Anyone in Turkey with common sense must leave Turkey before its too late.