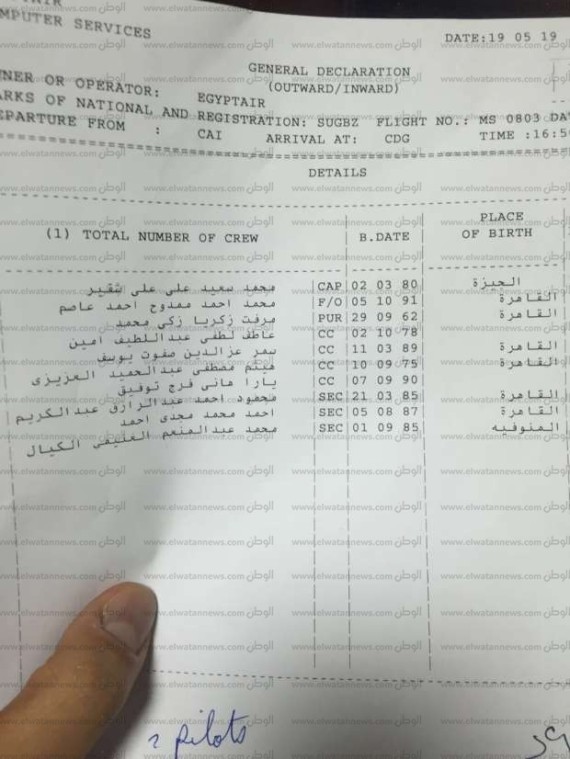 It will take time to see if any of these passengers are suspect.
It is simply not safe to fly anymore. Who could vet all these? I flew nearly 3000 flights for years and I decided to suspend flying altogether after years of experience. Smuggling a soda pope as a bomb (thats very easy to make too) is a breeze. No one can trust the growing number of Muslims working in the airline industry. Lists of employees and workers are suspect and should be an eye-opener to traveling these days.
I can take a look at this list and find issues. AlMutairi is a name on the passenger list and should be of interest since two Gitmo released with the same last name and are most likely related:
There is "Al Mutairi, Nasser (Kuwait) Chapter 2, also see WikiLeaks and the Guantánamo Prisoners Released After the Tribunals, 2004 to 2005 (Part One of Five)"

"RELEASED OCT 09, WON HABEAS PETITION (Jul 09) Al Mutairi, Khalid (Kuwait) Chapter 7, also see Judge Orders Release From Guantánamo Of Kuwaiti Charity Worker, Guantánamo And The Courts".
Then there is Salaheldin Abu Laban (the clan is Palestinian not Egyptian) and one can find that name of a list of arrests in Syria for joining a terror group Hizbul-Tahrir. There are two coptic Christians on the list of passengers.
While we cannot confirm if these terrorists were some of the actual passengers but vetting all this is nearly an impossibility unless we can profile. Soon you will see more planes crashing down from the sky and the costs of running the airlines will be immense.
After the November attacks, the French authorities have used the threat of terrorism to justify raids of employee lockers at Charles de Gaulle, as well as a systematic review of the roughly 87,000 airport employees who have badges giving access to secure areas that include the tarmac, baggage handling and cargo storage zones. Those reviews have led the authorities to revoke dozens of badges for security reasons, according to the airport police.
Other examples from Germany. A Turkish-born airport cleaner known to the authorities as a hardline Islamist had an access to major German airports' most sensitive security areas almost a year after Berlin authorities briefed an airport safety watchdog of his ties to radical beliefs, a report has revealed.
The employee, identified in a new report by Germany's Morgenpost on Wednesday as "Recep Ü," was eventually sacked in October 2015 after four years of working for the German airport operator FBB, which runs Berlin's Tegel and Schönefeld airports. However, his dismissal was triggered not by concerns over a possible terrorist threat but by a separate incident involving a security breach. He had been apprehended by airport security officers while attempting to smuggle a knuckle-duster into the security area of Schönefeld airport, the newspaper reported.
So here are the issues of interest. At 4:26 a.m. — nearly two hours after the last radar contact — the plane emitted a signal, although it was not clear whether that was an emergency distress signal sent by a crew member or an automated signal from the plane's onboard computers.
"We don't know if the pilot had something to do with this or if it is just the plane sending it," said Ihab Raslan, a spokesman for the Egyptian Civil Aviation Ministry.
Although American investigators concluded that the co-pilot had steered the airplane into the sea, Egypt rejected the idea of suicide and still insists that the crash was caused by an unspecified mechanical failure.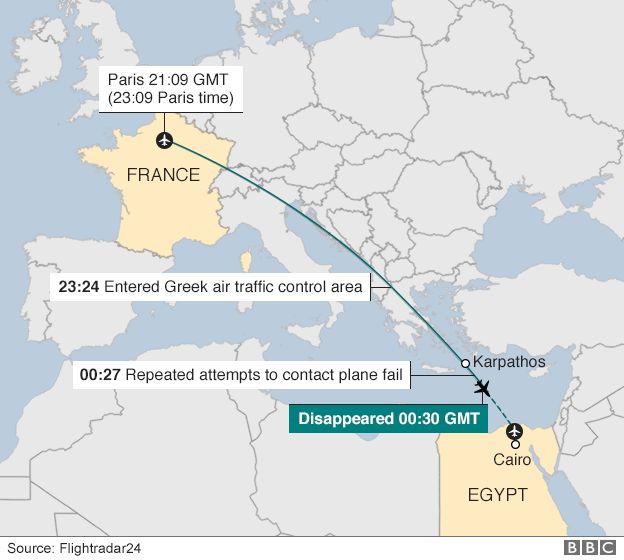 Egyptian Aviation Minister Sherif Fathi said: "If you analyse the situation properly, the possibility of having a different action, or having a terror attack, is higher than the possibility of having a technical [fault]."
An Egyptian aircraft disappearing without a Mayday signal is bound to raise the spectre of terrorism.
Initially, the aircraft seemed to drop off the radar at 37,000 feet, suggesting a sudden break-up. It's very rare for modern planes to simply break apart in mid air, but not impossible.
But then the Greek defence minister described the aircraft making sharp turns and dropping height quickly. Which suggests it was intact for longer. Even in the worst emergencies, pilots should have time to call for help.
Flightradar24 listed details of the plane's journey on Wednesday which showed it had flown from Asmara, in Eritrea, to Cairo, then on to Tunis, in Tunisia, before heading, via Cairo, to Paris.
Could something been loaded from Tunis or Eritrea?
Hijacking from within the passengers is not unusual. In March, an EgyptAir plane was hijacked and diverted to Cyprus. The attacker later surrendered and all hostages were released.
Then we have the Islamic State which issued a chilling threat to 'kill France' just days before Egyptair flight MS804 from Paris vanished with 66 people on board. Only days before the disappearance, ISIS gave a murderous warning to France in an online video.
"In France is the land of the Cross and Kufr. A Christian read the Quran and say the light."
The message gives no other clues and seems to give a hint that a convert joined ISIS and was ready to give punishment to the French. Although most of the casualties are Muslim Egyptians, this threat has not been confirmed to link to the crash yet as investigation of the crash continues. Also ISIS does not care about killing Muslims since there code allows it.
Jean-Paul Troadec, the former chief of the BEA national investigation unit, said there was a "strong possibility" the plane disappeared due to a suicide bomber.
Speaking to Europe 1 radio station in Paris, he said: "There's a strong possibility of an explosion on board from a bomb or a suicide bomber.
"The idea of a technical accident when weather conditions were good, seems almost possible but not that likely.
"We could also consider a missile, which is what happened to the Malaysia Airlines aircraft in July 2014."
Panos Kammenos from Greece said data retrieved on Egyptair flight MS804 shows the stricken plane made a 90 degree left hand turn then spiralled 360 degrees to the right as it dropped 22,000 feet.
He said: "At 3.39am the course of the aircraft was south and south-east of Kassos and Karpathos (islands)…immediately after it entered Cairo FIR and made swerves and a descent I describe; 90 degrees left and then 360 degrees to the right."
This only explains a chaos, a plane spiraling as it plunged which gives credence that either a bomb or a suicide bomber or a scuffle caused the crash. The latter assumption would need to investigate the passenger list.
No distress signal –
That leaves a terrorist attack as the most likely possibility, the experts said, not least because it appears that no distress signal was sent from the aircraft.
POSSIBLE ALTERNATIVE SPELLING
Mohammed Saeed Ali Shakir (The Captain)
• Mohammed Ahmed Mamdouh Ahmed Assem (Assistant Pilot)
– Cabin crew:
• Mervat Mohamed Zaki Zakaria
• Atef Lutfi Amin Abdul Latif
• Samar Ezzedine Safwat Yusuf
• Haitham Mustafa Abdel-Hamid Azizi
• Yara Hany Farag Tawfiq
– The security of the aircraft crew:
• Mahmoud Ahmed Abdel Razek Abdel Karim
• Ahmed Mohamed Magdy Ahmed
• Mohamed Abdel Moneim Ghonaimy Kayal
Names in Arabic:
دينا عبد الهادي
سالي عبد القادر
المتعري عبد المحسن
غسان أبو الابان
صلاح الدين أبو الابان
عاطف عبد الخالق إبراهيم أبو محمد
ياسين محمد العشري أحمد
أمجد عياد
خالد عبد الخالق علام
نجلا الصالحي
ريم السباعي
مونيكا دالي
هيثم سمير سيد
فارس عيسى عبادة
هيثم سمير ديدح وابنته وزوجته
هاله الباسل
خالد السيد طنطاوي نملة
محمود إبراهيم محمد الصياد
الشاذلي الشاذلي
إيزابل جنين
ناصر حمدي حماد
مروة حمدي
وجيه حنا
أحمد هلال
كونتن هسلوين
بيير هسلوين
بسكال هيس
منصور خالد حسين
أسامة فهيم عبد ربه إسلام
سحر خواجة
سوسن خضير
سيتشي مهامات
السيد محمود
فراج محمد
ريتشارد عثمان
ريهام مسعد علي
فتيحة سبيل
ريمون سامويل ماسياس
نها سعودي
إنجي سليم
يمنى حمدي شبانه
إسماعيل رأفت شبانة
أمينة سليمان
سمية محمد خليل
جيرت سوبر
كريمة سويلم
علاء تاج الدين
مدحت تانيوس
أحمد طايل
وليد عودة
داوود ميخائيل
أمل زين الدين محمود
جلال زيادة
محمد زيادة