By Walid Shoebat
Remember when the American hostages were formally released into United States custody minutes after the new American president, Ronald Reagan, was sworn into office? Just imagine Trump winning and all this muscle flexing by Iran will cease.
Iran has now officially threatened to close the Strait of Hormuz to U.S. vessels and allied traffic which one third of the world's oil supply is still transported through this narrow waterway.
This is great news for Trump's arguments on the art of the deal with Iran, especially as we see the tension by Iran has since been ratcheted up. Washington is now accusing Iran of developing rocket technologies in violation of UN Security Council resolutions and now Iran is threatening to use military force on U.S. naval ships crossing the Strait of Hormuz.
Thats just great.
Iranians are huffing and puffing saying that their naval forces are strong and can counter any opponent, including the US, if a conflict arises over the strategic Strait of Hormuz. The senior general Brigadier General Hossein Salami warned threatening yesterday:
"We have developed a powerful Navy in the IRGC and the Armed Forces, capable of defending the country's interests and independence"
In Iran its "let the weak say I am strong". Salimi said that last year's incident in which 10 US sailors were arrested after straying into Iranian territorial waters proved that the Americans respected the strength of the Iranian forces. In other words, the U.S. will submit to Iran.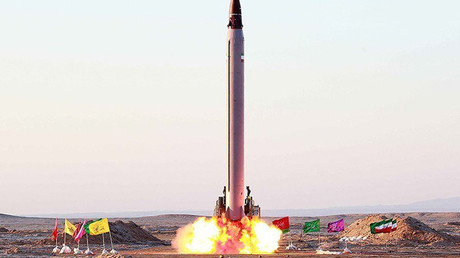 "We warn the US and its allies against any threatening passage through Hormuz, for if it ever happens, we will have no other choice but act according to the 1982 Convention," he said, as quoted by Mehr news agency.
"This is our lawful right," he said. "We will not allow any power or country to make decisions in regard to our defense measures and deterrent exercises."
This is what you get when you have a Kenyan negotiate the deal with Iran. As a result of Obama's deal Washington and Tehran are now at an odd point after Obama warmed up to Muslim Iran striking a deal, under which Iran abandoned parts of its nuclear industry in return for relief of international sanctions.
So Iran now got the relief while the Americans got the finger.
U.S. Navy officials say they face near-daily encounters with Iranian naval vessels. In January, an unarmed Iranian drone flew over a U.S. aircraft carrier in the Persian Gulf, the first since 2014, according to Navy records obtained by the AP.
The U.S. has also criticized what it called a "highly provocative" Iranian rocket test in December near its warships and commercial traffic. Iran said it has the right to conduct tests in the strait and elsewhere in Gulf.
All we hear is U.S. "criticized" and the U.S. "condemned" …. all the while Iran does what it does.
All what the U.S. needs to do is to develop American domestic energy supplies which are abundant and then tell Iran to drink the sea at the Straits of Hormuz.
While Iran is flexing its muscle I am not worried about Iranian acquisition of the Russian S-300 system or the other ballistic missiles which reduces the qualitative military edge of its regional adversaries, particularly the Kingdom of Saudi Arabia. Eventually it will be these two at each other's throat. As for the U.S., I am not worried, Trump is on the way.