By Walid Shoebat
There is nothing better than hearing it from the horse's mouth when it comes to something we have argued for weeks when we repeatedly stated that Turkey's invasion of northern Syria is not, will not, and plans not to destroy ISIS but plans to use it. Now one official newspaper of the Turkish mouth, Daily Sabah, just published a statement from Turkish Minister of Defense Fikri Işik:
"Turkish Minister of Defense Fikri Işik said to the media today on Wednesday that Turkey does not intend to use any ground troops in its military operations in Northern Syria against ISIS and other terror organizations. It will currently be satisfied by using and supporting the Free Syrian Army."
So much for all the hoopla about how Russia was bad, and why it should leave Syria, while Turkey was good since it plans on destroying ISIS.
Turkey announced plans to create a safe zone in Syria the size of the Grand Canyon, a campaign that could be one of the biggest foreign military interventions in its modern history.
Turkey's goal "is likely to require the deployment of thousands of Turkish soldiers in Syria for years and increase risks of a possible military confrontation with Syrian forces," Nihat Ali Ozcan, a strategist at the Economic Policy Research Foundation in Ankara, said.
The Turkish military, which entered Syria last month to supposedly push ISIS simply sandwiched the Kurdish separatists from the border area between them and ISIS creating a pincer.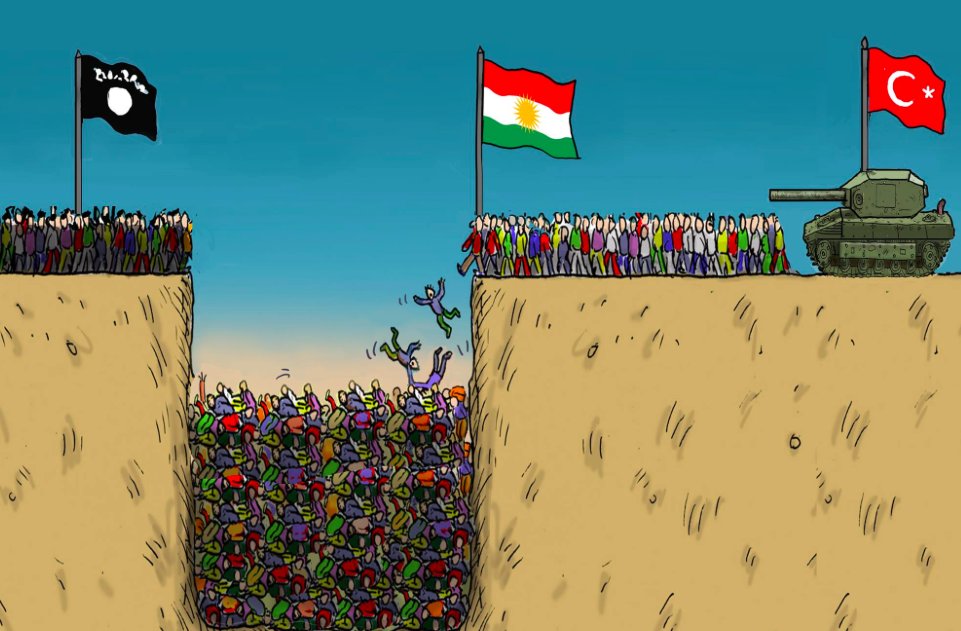 And while the world sticks its head in the sand, Turkey will expand its offensive to clear a 5,000-square-kilometer (1,931-square-mile) sanctuary, President Recep Tayyip Erdogan said on Monday. This will be Turkey's largest incursion since it poured troops into northern Iraq in the 1990s into Syria and Iraq.
Erdogan wants to become "the Assyrian" and "King of Babylon". Now the biblical verses become clear how this one nesting bird hits multiple stones (titles).
The picture and the plan is becoming clearer by the day. World leaders gathered for the annual United Nations General Assembly on Tuesday, focusing on the war in Syria as an international disgrace, while calling terrorism and the flow of refugees the global challenge of their time. So who is the solution? Who has the answer to all these crisis? As we have been saying it all along: Erdogan.
French President François Hollande, whose country has been racked by terror strikes in recent months, called for international action since instability in Syria, Iraq and Libya has strengthened terrorist groups, and that in turn has displaced millions of people. Mr. Erdogan urged member states to speak out about reforming the Security Council and expanding the number of veto-wielding permanent members, a move long sought by the world's newer powers. Mr. Ban has also supported such reform, but it would require the majority vote of all member states.
"Please do not even consider remaining silent," said Mr. Erdogan. "We have to speak up and have a spine."
Whenever you hear of 'humanitarian crisis' in Muslim counties, rest assured, it is orchestrated and designed for nefarious purposes. Turkish President Recep Tayyip Erdogan warned on Tuesday of "a new humanitarian crisis, with the launch of liberalization operations of Mosul from ISIS control".
How will he solve all these problems? Incursion into Iraq as well. Erdogan said, "We cannot leave Iraq alone under the current circumstances," adding, "Turkish incursion in northern Syria, has led to stability and peace, and we respect the territorial integrity of Syria."
The tyrant now has become the man of peace.