By Walid Shoebat
Why would the birth of the King of Kings spark a host of Muslim demons to unleash their anger today? One with a semi truck used by ISIS to plow into a crowd at a Christmas Market in Berlin today killing at least nine. The driver is … you guessed it, a Pakistani Muslim.
"Welt.de", who first suggested driver in #Berlin xmas market incident might be Chechen, are now suggesting he is Pakistani. (1/2)

— yassin musharbash (@abususu) December 19, 2016
Here we got a video of the carnage:
Then in Vancouver, another carrying a machete inside an East Vancouver SkyTrain station during Monday morning's rush hour was shot by police as horrified transit passengers watched the terrifying incident unfold as an hour after the Russian ambassador was shot dead in Ankara. Here we got a video of that maniac:
And then the other maniac in Turkey:
@pmu_english #ISIS online channel claim as attack. Currently media labelled as an accident of truck driving into market place.

— Iraqi PMU English (@pmu_english) December 19, 2016
Of course the motive for killing Russia's ambassador is now released by the Turkish government media. Mevlüt Mert Altıntaş they say is linked to Fethullah Gulen's FETO.
Gülen's movement is classified as a terrorist organization in Turkey under the name Gülenist Terror Organisation (Fetullahçı Terör Örgütü, FETÖ)
But how is Altıntaş linked to FETO? Erdogan's government claims that during the July coup, the assailant got a medical report for time off and the medical report had an address belonging to a pro-Fethullah Gulen Today's Zaman reporter. In other words, they are claiming that Altıntaş took the time off to participate in the coup to oust Erdogan and he had a FETO connection.
But something doesn't add up. As we can see, from the posters we obtained, this guy is an Erdogan lover through and through. Here he is standing behind Erdogan and Davotuglu's AKP posters.  He was also in office in the tour with President Recep Tayyip Erdogan on December 2014 Konya and 1 February 2015 Bursa. He also chanted in Arabic the Muslim Brotherhood slogan yelling "We are the ones who gave our allegiance (Bay'at) to Muhammad to continue our Jihad. We will never fail forever"
He is definitely someone who burned incense at the altar of Zeus-Erdogan:
@unsalunlu HiÇ UĞRAŞMAYIN, KATiL AKP'Li!
Polis olarak alınan Mert Altıntaş %100 akp referanslı ve İHH gönüllüsüdür. pic.twitter.com/M3DNIKhC8z

— ilber Hoca (@ilberhoca2) December 19, 2016
And now he became 007 with a perfect pistol grip and instant stage actor who has been rehearsing every move in front of a mirror as if he was going to be in a soap opera.
https://twitter.com/ASylMdy/status/810991475018317828
The other million dollar question is how did this off duty cop whom the government says is a FETO terrorist enter standing as a security guard with a FETO wrap sheet? One would think that he would be locked up in Erdogan's gulag already. This guy didn't just pop out of nowhere, he was standing casually behind the ambassador as you can see here before he shot him: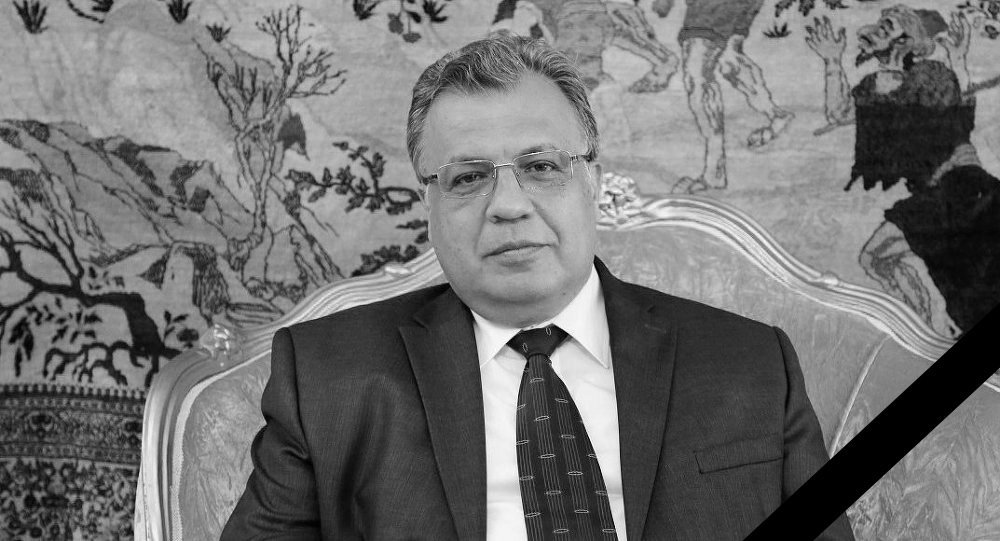 Erdogan wants Gulen by hook or by crook and a murdered Russian ambassador blamed on the FETO organization is the perfect reason to start pressuring both the U.S. and Russia.
AKP media calls "traitor" whoever doubts assassination done by Gulenists. Who wld trust AKP's coup-Gulenist alegations if this proven wrong? https://t.co/nSoUYTwdXe

— ilhan tanir (@WashingtonPoint) December 19, 2016
Erdogan's media in fact warned that any citizen who does not believe that FETO was involved will be considered 'traitor'.  In Turkey there is no room for two gods for everyone must serve the Zeus.
What can one expect out of Pergamum and its Zeus? He and all the other demons know and fear that the King is coming … soon.
CHRISTIANS ARE BEING KILLED AND RAPED EVERY SINGLE DAY, PLEASE CLICK HERE TO MAKE A DONATION TO OUR RESCUE TEAM THAT WILL SAVE THE LIVES OF CHRISTIANS FROM PERSECUTION