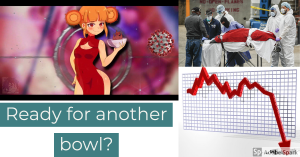 Shoebat.com has pointed out that the COVID-19 coronavirus has wreaked a lot of economic devastation, but is this it? I have said that such is not true, but like a storm, the preparation for a second wave. The Wall Street Journal notes this, saying that a second wave will be incredibly destructive, even more than in the past, and will cause a serious recession.
A second wave of lockdowns to counter a resurgent novel coronavirus would deal a terrible blow to a global economy already facing a severe contraction, the Organization for Economic Cooperation and Development said Wednesday.

In its latest report on the global outlook, the Paris-based research body released one of the gloomiest forecasts for growth yet published by an international financial institution. The OECD said it expected the global economy to contract by 6% this year if a second wave of infections and containment measures can be avoided. A contraction on that scale would be twice as large as the decline in activity forecast by the International Monetary Fund in April.

In response to the spread of the virus, governments around the world closed large parts of their economies from mid-March and began to lift those restrictions in May. Thus far, the easing of restrictions hasn't led to a surge in new infections, but that remains a threat.

However, the OECD took the unprecedented step of offering two separate series of growth forecasts, reflecting the high level of uncertainty around the pandemic's course. In a second-wave scenario, the global economy would shrink by 7.6% this year.

A resurgence of the pandemic later this year would damp the partial recovery that is expected to take place in 2021. Without a second wave this year, the OECD expects to see growth of 5.2% next year. With it, the rebound would be a more muted 2.8%. (source)
Times are going to become very hard for everybody. One will need to work hard for oneself, but also to help others with their needs, as life in America is going through a fundamental transformation, and what the US looked like even months ago will be significantly different in the months and years to come.
COVID-19 is not the start of the problems, nor is it the cause, but it is something that is just exposing the problems that already existed.