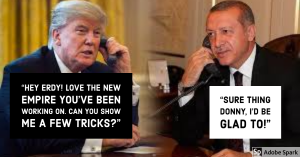 President Trump continues to mire himself in more controversy with each day amid his growing list of bold statements and litany of empty promises. It is with interest then, as the election approaches, that Trump's 83-year-old sister said that her 74-year-old brother is a cruel man with no principles who only wants to appeal to his base as the Star Tribune reports by way of the Washington Post.
Maryanne Trump Barry was serving as a federal judge when she heard her brother, President Trump, suggest on Fox News, "maybe I'll have to put her at the border" amid a wave of refugees entering the United States. At the time, children were being separated from their parents and put in cramped quarters while court hearings dragged on.

"All he wants to do is appeal to his base," Barry said in a conversation secretly recorded by her niece, Mary L. Trump. "He has no principles. None. None. And his base, I mean my God, if you were a religious person, you want to help people. Not do this."

Barry, 83, was aghast at how her 74-year-old brother operated as president. "His goddamned tweet and lying, oh my God," she said. "I'm talking too freely, but you know. The change of stories. The lack of preparation. The lying. Holy shit."

Lamenting "what they're doing with kids at the border," she guessed her brother "hasn't read my immigration opinions" in court cases. In one case, she berated a judge for failing to treat an asylum applicant respectfully.

"What has he read?" Mary Trump asked her aunt.

"No. He doesn't read," Barry responded.

This combination photo shows the cover art for "Too Much and Never Enough: How My Family Created the World's Most Dangerous Man", left, and a portrait of author Mary L. Trump, the president's niece.

In the weeks since Mary Trump's tell-all book about her uncle has been released, she's been questioned about the source of some of the information, such as her allegation that Trump paid a friend to take his SATs to enable him to transfer into the University of Pennsylvania. Nowhere in the book does she say that she recorded conversations with her aunt.

In response to a question from the Washington Post about how she knew President Trump paid someone to take the SATs, Mary Trump revealed that she had surreptitiously taped 15 hours of face-to-face conversations with Barryin 2018 and 2019. She provided The Post with previously unreleased transcripts and audio excerpts, which include exchanges that are not in her book.

Barry has never spoken publicly about disagreements with President Trump, and her extraordinarily candid comments in the recordings mark the most critical comments known to have been made about him by one of his siblings. No one else in the family except Mary Trump has publicly rebuked the president.

The transcripts reveal the depths of discord between the president and his sister, illuminating a rift that began when she asked her brother for a favor in the 1980s, which Trump has frequently used to try to take credit for her success.

At one point Barry said to her niece, "It's the phoniness of it all. It's the phoniness and this cruelty. Donald is cruel." (source)
It is not a surprise that such statements are being made at election time, as this is the time that bad behavior tends to come out the strongest, because it is a contest for power and anything is used to justify or stop one taking it. However, aside from this point, the last four years seem to confirm what she warned about.
Trump has shown himself to be not a nice person at all. He has lied profusely, and when given an excellent opportunity to truly make the country better, or at least give her a smoother landing from the crises that she was going to inevitably endure, Trump instead has worsened the conditions and set the nation up for a likely inevitable hyperinflation scenario. Since Trump's "accomplishments" often involve bankruptcies- not personal but corporate -then it would be quite the thing to be held responsible for bankrupting the American empire.
But the biggest indicator of his presidency has been his words versus his actions. In 2016 it was "build the wall" and "lock her up" just as much as 2008 was talk of "hope and change", but as people found largely neither hope nor change then, during the Trump years he did not just fail, but refused to follow through on his promises.
I'm not commenting at all about the morality or immorality of his particular actions in this context. I am simply commenting that Trump, once he took office, turned his back on all that he said, and he made ZERO efforts to follow through on his promises, and then tried to either avoid discussion or poorly dump the blame on another for his failures.
This election has no good choices. Trump is terrible and so is Biden, and while Trump is the favorite and likely to win again, people should not expect anything different from Trump than the last four years. Trump is not a "bulwark" stopping socialism, for that is already here, and people have already embraced it. Trump will continue the same policies of the last four years, and he will continue them to their logical ends, ensuring only that in the 2024 cycle, it will be a guaranteed Democrat landslide victory based not on just demographics and district changes, but because people want a change from what would likely be eight years of failure.
This is why I note that it does not matter what Trump's family members say due to the election, but only if the statements are true. Yes, the intentions may be bad, but for this case, if one looks strictly at the information, it is likely that she is telling the truth.
Trump had the chance of a lifetime, and when afforded it, he showed who he really was- a stage actor controlled and willingly submissive to major external interests, and who cares only for himself and does not care what happens to the people he has been entrusted with governing.