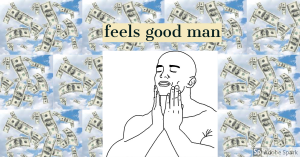 Once money printing begins, it rarely stops. This is a fact that is known throughout history because once the concepts enters into the public mind that they can "print" themselves to prosperity, a nation is historically finished. Having noted this, it is of interest to declare that following the COVID-19 stimulus checks, Mnuchin is saying in a story to Reuters that there may be more free money handouts coming later this year.
U.S. Treasury Secretary Steven Mnuchin said on Wednesday he would seriously consider more direct payments to individuals in the next phase of coronavirus rescue legislation, adding that funds should also be targeted to help sectors struggling to reopen, including hospitality and tourism.

Testifying before the U.S. Senate Small Business Committee, Mnuchin said the Treasury also planned to issue new guidance this week to ease rules that prohibit business owners with a criminal conviction in the past five years from accessing forgivable Paycheck Protection Program loans.

That would be reduced to three years, and Mnuchin said he was open to easing the rules further.

Mnuchin said he "definitely" believed another round of federal coronavirus aid would be needed, including measures to create jobs. Congress has so far passed three coronavirus bills totaling about $3 trillion in programs, including the small- business payroll loans, payments to individuals, money for healthcare providers and Federal Reserve credit market backstops.

"We will have a significant amount of unemployment and we're going to need to look at doing something there," Mnuchin said. "I think we're going to seriously look at whether we want to do more direct money to stimulate the economy, but I think this is all going to be about getting people back to work."

The Treasury chief, who has negotiated most of the programs with congressional leaders, also said he was open to "repurposing" some of the unused funds. When asked if he would consider allowing some $130 billion in unclaimed PPP funds to be used to rebuild businesses damaged during recent protests over police brutality, Mnuchin said he would consider the idea. (source)
At this point, why not?
The currency is dying. This is an obvious fact. It is not going to get any better. Nothing can stop it at this point.
I'm not saying that money printing is good. But this is a situation where the end in inevitable. At this point, the smartest move is to take all that one is able to from the system before the scam is fully exposed and let it fall naturally, which it has to by its nature.
What it means for the wise is to prepare for the future by making smart decisions now, paying down debts, and getting ready for a true reset of the US dollar.