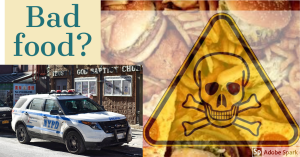 The New York post reports that after an investigation, the NYPD has found 'no criminality' in what were allegations of a poisoning attempt of three NYPD officers that landed the latter three in hospital care.
The NYPD said it found no criminality by Shake Shack workers in connection with the hospitalization of three officers who drank milkshakes they believe may have been spiked with bleach, a police official said Tuesday.

"After a thorough investigation by the NYPD's Manhattan South investigators, it has been determined that there was no criminality by shake shack's employees," Chief of Detectives Rodney Harrison said in a tweet early Tuesday.

Police sources said the case has been deemed unintentional after it appeared that whatever cleaning solution was used on the shake machine wasn't rinsed off enough.

The cops immediately noticed a funny taste when they sipped the drinks from the chain's location on Broadway near Fulton Street shortly after 9 p.m. Monday, law enforcement sources told The Post.

They were taken to Bellevue Hospital and have since been released.

All three are assigned to the 42nd Precinct in The Bronx, but were on a detail in Manhattan at the time.

The NYPD's Crime Scene Unit launched an immediate investigation at the restaurant.

Investigators recovered two of the cups that the officers threw out after trying to drink the shakes, the sources said.

Shake Shack responded to Harrison's announcement in a tweet, saying: "Our team is working hard to get the full picture. In the meantime, we're relieved to hear the officers are all okay."

The Police Benevolent Association said in a warning letter to police officers earlier that the incident was "yet another serious safety issue."

PBA president Patrick Lynch wrote that several officers who had been assigned to a protest detail stopped at the Shake Shack.

"At some point during their meal period, the (officers) discovered that a toxic substance, believed to be bleach, had been placed in their beverages," he wrote.

"The contamination was not discovered until the (officers) had already ingested a portion of their beverages," Lynch continued. "They are currently at the hospital receiving treatment and are expected to recover."

He added: "When New York City police officers cannot even take meal without coming under attack, it is clear that environment in which we work has deteriorated to a critical level. We cannot afford to let our guard down for even a moment." (source)
As one who has worked in the restaurant industry, I have multiple questions about this, and some which I know I will likely not be able to get an answer to, especially since there is a (naturally so) lack of detail about such in the article.
However, I would like to note that actually there is a very high chance this was intentional.
When you go to a restaurant, you are trusting somebody with your food and health. This is not a bad thing because a lot of people do this and it is fine. But remembering history, it is the example of the cook who puts poison into the food of a leader to kill him. Remember that Mohammed, the founder of Islam, was killed by being fed a poisoned leg of lamb by a Jewish woman.
Fast food employees are known to do many thing to the food of customers they do not like or who give them trouble. For example, rubbing a steak on the floor with one's shoe and then serving it, or perhaps running it through the dishwasher first. Spitting or blowing one's nose into a drink, or perhaps adding some urine or other bodily fluids too for 'flavoring' is also common. I know this because either I have known people who have done such or who were in the restaurant industry and have seen this.
As such, given the current openly spiteful situation of police to the public, while I do not have 'direct evidence' to say that such was the case, it is perfectly reasonable that there is a likely chance that in spite of the official report from the NYPD, that it was indeed an attempt, for food-service workers know well that bleach does not go anywhere near foodstuffs, and that to add such to a drink will take effort.
Likewise, and without attempting to incite or insinuate any racial animosity, it would be interesting to know if a person or persons tied to the "Black Lives Matter" movement was a foodworker at the time or who may have had contact in any way with the drinks that were served to those particular police officers, and one may wonder if the NYPD is officially saying that such did not happen because they are afraid of what the possible effects could be, politically speaking as well as in the city.
The entire racism issue right now is poisoning society. It does not matter what color one's skin is. The fact is that people may have differences, but racism is not called for, and while police may have done some things that are not good, the situation is not solved by committing violence against police, especially what seems to have been, from my experience, a possible attempt to poison officers for no reason other than that they are policemen that is being covered up because, like many prosecutions for criminal charges, the prosecutions are actually political and not about seeking justice no matter how small or large the incident is.
It needs to stop.