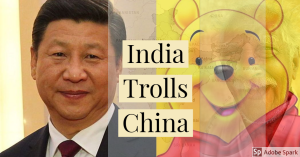 For years now, Americans and people in other western nations have trolled Communist China leader Xi Jinping with pictures of him compared to or alongside the famed English cartoon character Winnie the Pooh by A.A. Milne. This trolling, sometimes known as "Winnie Xi Pooh" has infuriated President Xi to the delight of the trolls.
With the spread of technology in India, more Indians are coming to use the Internet and are getting used to the meme culture, and while not so much developing anything very original of their own, are rather borrowing or copying already existing things as the integrate. In an interesting reflection of this and the recent military skirmish between China and India, Indians have discovered the "Winnie Xi Pooh" meme and are now trolling President Xi with it.
Soon after the news of the confrontation broke, Indian Twitter did they what they do best – unleashed a war on Chinese President Xi Jinping on social media. And they did so by trending a hashtag, #WinnieThePooh.

…

While most saw it as some harmless fun, the government saw it as undermining the authority of the presidential office and that of the president himself. Jinping, who has ironically always tried to present himself as a benevolent leader, hated being compared to every child's favourite cartoon character China simply could not bear the thought of having the cute yellow bear becoming symbolic of their leader.

Thus, began China's censorship woes. Anything related to Winnie the Pooh – toys, movies, TV series – everything was banned in China. The Hollywood Reporter in 2018 reported that Christopher Robin's movie about Pooh was banned in China.

Ever since then, any attack on China on social media has been incomplete without reference to Winnie the Pooh. In fact, every time Xi Jinping makes a move, the hashtags begin trending globally on Twitter.

Monday's clash between Indian and Chinese troops have been no different. (source)
The Tweets speak for themselves:
You don't want war.

Go to china and say #WinnieThePooh we don't war.

— LALIT SHARMA (@LALITSHARMAHP) June 17, 2020
You so called lizards are always manipulated by that idiot #winniethepooh. Go, Have some bat soup.

— Aman Surkar (@amansurkar) June 17, 2020
When will the truth come out about the huge amount of corruption and cover ups curtesy of #XiJinping aka #winniethepooh . It's truly sad when certain western media is reporting the propaganda like it's facts when we know that many more people have died in China then mentioned.

— Mo Bahar (@CrypticTradeBTC) June 16, 2020
But trolling aside, this is a very serious situation, and it lines up on point with what we at Shoebat.com have been warning about.
China is going to be at war, most likely with the US. However, she will also have tot face off with Japan and against rebellions across her western provinces and Southeast Asia. India, however, will be her biggest problem after Japan because while India is not an "imperial" power, she has a military and population equivalent to that of China. Putting those two against each other is a huge threat to Chinese domination in Central Asia, and since she cannot expect Russia to do anything (Russia talks a lot about China but actually hates her because she correctly perceives China to be a major threat to her holding in Siberia), China is going to be on her own.
This border skirmish with India seems to be an act of Chinese aggression, but backfired on her. It has not escalated into a full-scale war, but it came close and still could. It will be events such as this that eventually culminate in a major war.
I have said it before to our readers and I am going to say it again.
IF YOU ARE A CHRISTIAN IN INDIA, YOU NEED TO LEAVE NOW. THIS ATTACK WAS A WARNING SHOT. ASSUMING THE TRENDS CONTINUE AND BARRING ANY MAJOR CHANGES, THERE WILL BE A WAR WITH CHINA, THE HINDU NATIONALISTS WILL BE ABLE TO TAKE POWER, AND YOU WILL LIKELY BE PUT INTO DEATH CAMPS AND NOBODY IS GOING TO HELP YOU BECAUSE PEOPLE WILL BE MORE CONCERNED ABOUT CHINA.
If you are an Indian Christian, please get out of India while you still can because there will come a time when it is too late.