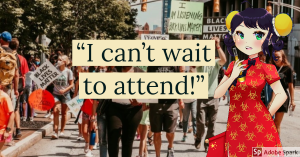 Even as the CDC continues to recommend social distancing, enhanced sanitization protocols, and other steps in order to diminish the spread of disease, the Christian Post reports that hundreds of churches totaling thousands of people have marched through the streets of Atlanta demanding an end to 'racial violence'.
Thousands of Christians participated in a time of prayer and worship before marching in the streets of Atlanta Friday, where they called for an end to racism and to urged lawmakers and law enforcers to ensure laws and policies are equitable for all.

The Juneteenth "March on Atlanta" was organized by the OneRace Movement, a Christian coalition that exists to "displace the spirit of racism and release a movement of racial reconciliation across Atlanta, the Southeast, and the nation."

The event began at around 9 a.m. with a time of worship and a rally at Centennial Olympic Park before participants marched down to the Georgia State Capitol building at around 11:30 a.m. and then back to the park for a closing rally.

OneRace Movement co-founder Garland Hunt, the senior pastor of The Father's House Church, told The Christian Post in an interview after the march that as many as 400 churches participated. He said the weather was "perfect" for the rally even though there had been earlier forecasts of rain.

The march was announced just over two weeks ago when the OneRace Movement held a press conference in the wake of the killings of George Floyd and Ahmaud Arbery to launch "The OneRace Statement on Righteousness and Justice: A call to end Racial Violence."(source)
These marches are not going to accomplish anything, most certainly not end racism, which is likely only going to increase as more people protest.
The only thing they will do is to provide an environment where a lot of people, in close proximity, will be able to breathe on each other and infect each other with COVID-19. Protests are an ideal condition in which diseases can spread, and this seems to certainly be the case here.
Perhaps instead of useless marches- the last one which actually did anything was in 1964 -there could be a focus on social responsibility, part of which involves not spreading diseases such as COVID-19.