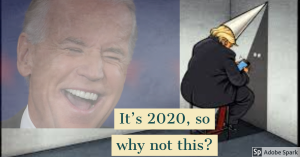 It would be interesting to know who was posting for Trump's Twitter account after AP News reports a video with a man shouting "white power" in it was retweeted before it was deleted from his feed.
President Donald Trump on Sunday tweeted approvingly of a video showing one of his supporters chanting "white power," a racist slogan associated with white supremacists. He later deleted the tweet and the White House said the president had not heard "the one statement" on the video.

The video appeared to have been taken at The Villages, a Florida retirement community, and showed dueling demonstrations between Trump supporters and opponents.

"Thank you to the great people of The Villages," Trump tweeted. Moments into the video clip he shared, a man driving a golf cart displaying pro-Trump signs and flags shouts 'white power." The video also shows anti-Trump protesters shouting "Nazi," "racist," and profanities at the Trump backers.

"There's no question″ that Trump should not have retweeted the video and "he should just take it down," Sen. Tim Scott, R-S.C., told CNN's "State of the Union." Scott is the only Black Republican in the Senate.

"I think it's indefensible," he added.

Shortly afterward, Trump deleted the tweet that shared the video. White House spokesman Judd Deere said in a statement that "President Trump is a big fan of The Villages. He did not hear the one statement made on the video. What he did see was tremendous enthusiasm from his many supporters."

The White House did not respond when asked whether Trump condemned the supporter's comment.

Joe Biden, the presumptive Democratic presidential nominee, condemned Trump. "We're in a battle for the soul of the nation — and the President has picked a side. But make no mistake: it's a battle we will win," the former vice president tweeted. (source)
Trump is already having a really hard time with this election.
There is no way that, at this point, this is going to help him, because while it is true that Trump has used racism to his campaign benefit before, this is also not 2016. People want peace, not violence, as they are sick of the nonsense that one has seen nightly on the media. Honestly, the constant talk of race is more likely to induce racism as opposed to being any cure for it, and that is likely the reason why such protests are being permitted- to incite as opposed to stop any sort of racist sentiments.
Even sometimes the news surprises me, and this is one of those times, because while it is true that chaos can be incited, narratives can go out of control, and people can do incredibly insane or thoughtless things in the minute of passion.
What exactly happened in this situation? We will likely never know. However, at this point, it is worth getting a bucket of popcorn, opening a soda or two, and sitting back to watch the political show because it is only getting more chaotic.