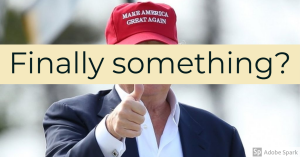 A major complaint of college graduates and people in the work force is the focus on 'education' in the job market, which employers for a long time have wanted to be highly specified to the detriment of real world experience. Things are so strange that at the current time in history, it is not uncommon for a many with decades of experience to be told he does not have the 'right degree' and be passed over for a position.
As far as the Federal government is concerned, this may be changing as it follows a new order from Trump to prioritize experience over a degree according to USA Today.
A college degree will no longer give Americans a leg up when seeking some jobs with the federal government.

President Donald Trump signed an executive order on Friday that will overhaul the government's hiring practices so that a job applicant's skills will be given priority over a college degree.

Administration officials say the shift will allow the government to hire a more inclusive workforce based on skill instead of a person's education level.

"This will ensure that we're able to hire based on talent and expand our universe to qualified candidates and ensure a more equitable hiring process," Ivanka Trump, the president's daughter and senior advisor, told reporters on Friday.

Ivanka Trump is co-chair of the American Workforce Policy Advisory Board, which was created in 2018 and tasked with recommending ways to improve job training. The president signed the order during the board's meeting on Friday.

"The federal government will no longer be narrowly focused on where you went to school, but the skills and talents that you bring to the job," Trump said.

The federal government is the nation's largest employer with 2.1 million civilian workers. (source)
How this actually works out is to be seen. But if it does work out well, it could be a huge improvement, and actually something that is more aligned with 'making America great again'.
Degrees are good things, and they have value. But this cannot come to the detriment of real-world experience, that if it can be demonstrated, always takes priority over paper, for one can know ideas, but implementing these ideas in the real world is what matters in an employment situation.
This is something that will be important to watch, and if true in its form, could be a real step towards MAGA.