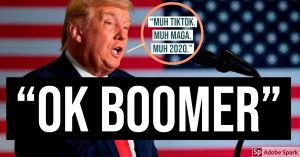 In 2016, Trump boldly proclaimed statements such as "Build The Wall" and "Lock Her Up." Four years later, those statement are now in the political trash heap, as Trump declares that the real threat is not the refusal to manage borders alongside a balanced and comprehensive immigration policy that serves the economic and social needs of the country, and neither is it the need to clean up the rampant corruption in the political system that threatens the balance of power and is actively bringing about the conditions for an old-world style centralization of power without the checks and balances intended to prevent extreme shifts of power. Rather, in the year 2020, the real threat is a phone app with 30-second or shorter videos of puppies, pranks, personal stories, women flaunting their attractive bodily characteristics, and teenagers being silly called TikTok. As CNN reports, Trump is now declaring he is going to ban the app.
President Donald Trump said Friday night that he will ban the popular short-form video app TikTok from operating in the United States, rejecting a potential deal for Microsoft to buy the app from its Chinese-owned parent company.

"As far as TikTok is concerned, we're banning them from the United States," Trump said to reporters while aboard Air Force One.

Trump said he could use emergency economic powers or an executive order. It was not immediately clear what such an order would look like and what legal challenges it might face.

"Well, I have that authority," he said.

…

Critics of TikTok worry that the data it collects on its US users could end up in the hands of the Chinese government, though TikTok has said it stores its data outside of China and that it would resist any attempts by Beijing to seize the information. (source)
I don't use TikTok, and I have no interest in it, for it is the attention-deficit-disordered version cousin of YouTube, where short videos make for instant dopamine fixes for entertainment without purpose, focus, or adding material to edify one's mind, but often only to debase it.
I could care less for the platform if it was destroyed. What I speak of here is Trump's approach to "banning TikTok" because "I have the authority>."
Trump was born in 1946, so he legitimately can be called a "Boomer". One may remember the phrase "OK Boomer" is used by Millennials and Zoomers (Generation Z) alike to insult Boomers for being disconnected with the current times and valuing their historically abnormal possession of wealth as a weapon to be used against younger generations who are and will remain in poverty due to Boomer-created or supported policies that transferred the wealth of the future to themselves, which they proceeded to spend all and then go into debt using credit for which they expect the future- the Millennials and Zoomers, to pay for them.
Right now, the US is economically burning, and so are some of her cities. There is NO ECONOMIC FUTURE for at least a decade in the US, and many of the Zoomers graduating college right now, like the Millennials rom 2006- 2010, are finding themselves with a mountain of debt and no way to pay in and, like their Millennial counterparts, are finding themselves trapped in a cycle of debt, decay, decline, and human misery at low-end and in many cases, no jobs because all of the work is evaporating.
It makes my heart heavy to think about this because it is a horrible thing to experience. And what are the Boomers doing, including the Boomer president Trump? He is continuing to drive the value of the currency to nothing while enriching himself and his family, including the arguably diabolical Jared Kushner, while trying to distract people from the horrible reality of what is taking place by "banning TikTok" because "Chinese spying" while the US spies in the same way and even more prolifically than the Chinese do.
TikTok? Does one really propose to argue that a bunch of teens and college women shaking their backsides in skimpy clothing in videos, all less than 30 seconds per video, is a threat to national security? Indeed, if the Chinese are truly spying on and "studying" this material, one most likely does not need to know what the people "studying" it are doing since one can likely surmise from the context.
Likewise, what does Trump think this is going to do? If people do not see through the obvious political manipulation, then why would one believe that such an app loved by millions of people would be good for his political campaign? Some people invest a lot of time in making videos for TikTok or watching those videos, and does one really believe they will "support Trump" if he bans this, when they can see no real reason why it makes sense, meanwhile these same people cannot pay their bills and are already miserable, and now one of their few sources of entertainment is gone? This is not a way to win the Millennial or Zoomer vote, but to get people to hate him more than what they already do.
If Trump truly bans TikTok, the only response people should have to him is "OK Boomer," because that is how Trump is acting, like a clueless Boomer living in a fantasy world even as reality is burning around him, and who does not care because he is going to be dead in a decade or two and somebody else will have to clean up the mess left behind.
This is not making American great again. This is distracting America hoping they will overlook four years of failure and open betrayal because he has no platform, nothing to propose to better the country, and that people can expect nothing better from him.