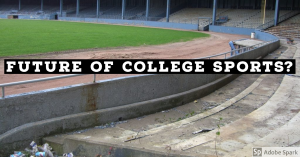 There are several trends that have been noted regarding COVID-19. One of those trends is how many COVID-19 recovered patients have some form heart damage regardless of the age. This is a serious concern with possible long-term medical consequences. As such, it is interesting that ESPN reports that the upcoming sports season may be gravely affected because of the heart issues among college athletes who contracted the disease.
A rare heart condition that could be linked with the coronavirus is fueling concern among Power 5 conference administrators about the viability of college sports this fall.

Myocarditis, inflammation of the heart muscle, has been found in at least five Big Ten Conference athletes and among several other athletes in other conferences, according to two sources with knowledge of athletes' medical care.

The condition is usually caused by a viral infection, including those that cause the common cold, H1N1 influenza or mononucleosis. Left undiagnosed and untreated, it can cause heart damage and sudden cardiac arrest, which can be fatal. It is a rare condition, but the COVID-19 virus has been linked with myocarditis with a higher frequency than other viruses, based on limited studies and anecdotal evidence since the start of the pandemic.

The concern has "made the bar higher" for returning to fall sports, said Dr. Jonathan Drezner, director of the University of Washington Medicine Center for Sports Cardiology and a sports medicine physician who advises the NCAA on cardiac issues, "and it could be we don't get there."

Conference officials and athletic directors told ESPN that the uncertainty about the long-term effects of myocarditis has been discussed in meetings of presidents and chancellors, commissioners and athletic directors, and health advisory board members from the Big Ten, Pac-12 and other conferences around the country. (source)
College athletics is a major source of income for many schools, and possibly the largest source, even more than tuition. The interruptions to the college sports machine caused by COVID-19 thus may affect school revenue streams, and this could not come at a worse time with expanding debts due to decades of mismanagement and overspending coupled with the decline and rejection of higher education due to it being made worthless for getting a job and overpriced by enslaving people to debt for life.
It is known that a lot of colleges and universities are going to have to downsize, and some may be forced to close their doors because of the falling revenue. This should never have happened, but this problem has existed for a while, and like with many things, the COVID-19 coronavirus has exposed serious flaws within already-existing systems that people ignored, refused to repair, and allowed to get a lot worse until something came along (the virus) that forced an examination, at which point the damage was too far advanced to stop anything.
This also bears an interesting question on the future of sports- how will athletes be chosen? In New York City, many famous basketball players were discovered by recruiters while playing amateur matches that anybody could see, such as at the famous "Fourth Street Basketball Courts."
I remember visiting these courts with somebody years ago, and as he was an older man and a veritable New York native, he pointed out several white men in suits with sunglasses watching. He informed me that they were most likely basketball recruiters from colleges looking to scout new talent.
As colleges downsize- and their sports programs as well -could it be possible that sports returns "to the streets" in amateur leagues, and if so, how much of this will happen?
As colleges prepare to begin school again in a few weeks, it will be interesting to see how the sports programs- and revenues -are affected and will continue to be affected in the future due to the fallout from the virus.