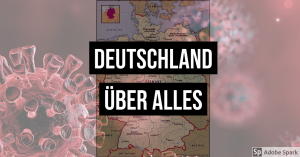 The German news site Deutsche Welle reports that COVID-19 is ravaging Germany right now, and infections continue to increase in what is now a three-month high.
German Health Minister Jens Spahn has called on people living in Germany to remain vigilant as the country's public health agency on Wednesday reported a jump of 1,226 in the number of new coronavirus infections.

Speaking to public broadcaster Deutschlandfunk, Spahn called it "worrying" that the number of cases had now risen to a level last seen three months ago.

"This obviously — if we don't watch out now — can lead to a certain dynamic," he said, saying almost all regions had now been affected by outbreaks of varying sizes.

Spahn urged people to stick to the recommended measures to stem the spread of the virus, including wearing masks, keeping a proper distance from others and avoiding close contact in social settings.

"When there's alcohol involved … it can go very, very quickly," he said.

Although Germany has received considerable praise for its management of the pandemic, infections have been rising in recent weeks, an uptick Spahn attributed not only to partying and family gatherings, but also the return of travelers from abroad at the end of the summer holidays.

According to the Robert Koch Institute, Germany has now recorded 218,519 confirmed cases of coronavirus infection and 9,207 deaths from the disease it causes, COVID-19. The first outbreaks in the country occurred in late January. (source)
There is much that one has to be concerned about with the rise of COVID-19 in Germany. This is not because of the virus itself, but because as I have repeatedly said, the effects of the virus.
Germany has the fourth largest economy in the world, so like the US, she is not a "weak" nation. However, she is still smaller than the US, and is going to be affected more by this virus as a result from an economic point of view.
Europe and really, Germany is in a LOT of trouble, and she knows. Indeed, she is the only nation worth paying attention to in Europe if one had only one nation to follow since Germany is the largest creditor of the Mediterranean nations as well as historically possesses military ambitions and acts on them.
The son of the former Nazi Governor of Poland Hans Frank warned that if Germany were to see heavy economic problems for five to ten years, National Socialism would inevitably return. In his words, "do not trust Germany," and in his words, "as long as our economy is great and as long as we make money, everything is very democratic, but let's wait and see if we have heavy economic problems, and the lake is a swamp, and a sea and will swallow again everything."
This is where COVID-19 fits in so well.
If COVID-19 is ravaging the US economy, what happens when cases increase in Germany? If the US is any guide to the possible results, we know that it is going to expose long-standing problems in the German economy that will force, like in the US, a reckoning with debt and likely, something of an economic collapse. When one throws into this issues such as migration and welfare payments to refugees, it only makes the social boiling pot even hotter.
In May 2020, I wrote that the Spanish Flu pandemic helped to precipitate the rise of National Socialism. Unfortunately, it appears that history may be repeating, for if the words of Hans Frank are true, we are seeing the setup for a rise in extreme nationalism that may lead to another explosion of German militancy, this time with nuclear weapons and robotics.
May God have mercy on us all.