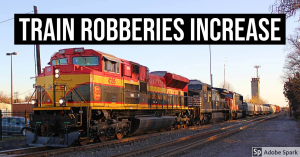 Mexico has a large problem with fuel theft. However, there is evidence that due to increased enforcement and security procedures, the number of fuel thefts has declined. However, a new trend has emerged in its place, which according to Mexico Daily News is that train robberies of whole railcars are now a regular occurrence in Mexico.
Last year an average of two railcars were robbed each week, but in the first six months of 2020 that number has increased to three per day, the newspaper Reforma reports.

The shift in targets is likely due to the pressure inflicted on the Santa Rosa de Lima Cartel, notorious for fuel theft in the area. Its leader, José Antonio Yépez Ortiz, alias El Marro, was arrested on August 2 on charges of kidnapping, organized crime and fuel theft after an 18-month manhunt.

Freight companies and cargo transportation experts have identified hot spots for train robberies in Mexico's Bajío central lowlands region: El Ahorcado in Querétaro and Empalme Escobedo and Apaseo El Alto and Apaseo El Grande in Guanajuato.

The exact number of train robberies that have occurred is unknown, as many go unreported, said security expert Marcos Solórzano Cataño, and the problem is not likely to go away anytime soon. Fuel thieves have the infrastructure and the protection of local residents already in place, making the transition from gas to cargo relatively easy.

Solórzano said thieves mainly target train cars carrying auto parts, grains, seeds, consumer goods and construction material.

Nationally, the number of train robberies has been declining. In 2016, 9,042 train robberies were reported whereas the first three months of 2020 have seen just 1,306.

The majority of train robberies occur in Puebla, Veracruz and Tlaxcala, government officials say. (source)
It is a known fact among truckers that truck robberies along the US-Mexican border are common, and that US drivers rarely ever go into Mexico driving not because of a lack of skill, but because many Mexican drivers are killed each year in highway robberies, and trailers that go to Mexico from the US will sometimes return to the US with bullet holes in them.
People talk about how dangerous the Middle East is, and while there are many dangerous parts, Mexico has become very dangerous owing to the increasing power of drug cartels that terrorize the nation and have caused serious damage to her economy as well as provoked a great deal of migration to the US, for nobody wants to raise a family in an environment where one is not sure if one will be able to see his children alive at the end of each day.