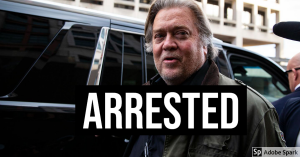 In a story that we will be closely watching, Trump's former campaign adviser Steve Bannon, who has spent time in Europe promoting nationalism and working with far-right groups, has been arrested on charges of financial fraud according to CNBC.
Former White House chief strategist Steve Bannon has been arrested after being charged with defrauding hundreds of thousands of donors through their campaign "We Build the Wall."

Bannon, along with three of his associates were indicted by investigators at the U.S. Southern District of New York on Thursday. They allege that the group of conservative leaders defrauded donors and that led to raising "more than $25 million to build a wall along the southern border of the United States," according to the press release.

The United States Postal Inspection Service assisted in the investigation.

The others mentioned in the indictment are Timothy Shea, who in May was announced as the Acting Administrator of Drug Enforcement Administration, Brian Kolfage, a Iraq war veteran, and Andrew Badolato. (source)
This is a major story, and we will be watching this closely to see how it develops.