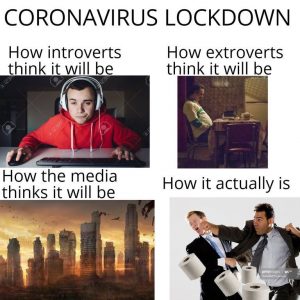 Some say that the 'home is where the heart is', but for many married couples or those in live-in relationships, being forced to stay together at home has been very destructive, to the point that comedians have made statements about it.
But according to the website Legal Templates, this is no laughing matter, as COVID-19 is being attributed as a source of many relationships falling apart.
According to a survey on the impact of the COVID-19 pandemic on relationships, 31% of couples say the quarantine has been damaging. With so many couples struggling, lawyers across the US are predicting record numbers of divorce filings once quarantine restrictions are lifted, as seen in China.

Many couples are spending 24/7 together and confronting major COVID-19 related stressors that are spilling over into their marriages, such as quarantine conditions, unemployment, financial strain, death of loved ones, illness, homeschooling children, mental illnesses, and more.

With growing tensions between couples, we've seen a 34% increase in sales of our divorce agreement compared to the same period in 2019.

…

Here's how the COVID-19 crisis is ripping apart marriages across the US.

COVID-19 quarantine destroyed marriages within three weeks

Interest in separation during quarantine peaked on April 13 — a 57% increase compared to Feb 13, 2020. That's just 15-20 days into when the vast majority of states began official quarantines.

It's possible that divorces spiked as people entered what mental health and human service professionals refer to as the "disillusionment phase" of the Phases of Disaster — the time when optimism turns to discouragement, stress heightens, and negative reactions often occur.

This is referred to as the "reality hits" phase in a study tracking moods in the UK during the pandemic.

Newlyweds were hit hardest

Our data reveals that 58% of users pursuing a divorce during the COVID-19 pandemic were married within the last five years — a 16% increase from 2019. This indicates that recently married couples were less equipped to deal with the stressors of the COVID-19 virus than mature couples.

However, it was extremely recently married couples (five months or less) that experienced the most devastation.

In 2019, only 11% of users were married for five months or less before purchasing a divorce agreement. During the same time period in 2020, in the midst of the COVID-19 quarantine, that number nearly doubled to 20%, meaning that a significant number of couples got married between January and March and pursued a divorce in the quarantine period between April and June.

Quarantine clearly wasn't the honeymoon newlyweds in 2020 were hoping for.
Our data shows the number of couples filing for divorce during the pandemic steadily decreasing with each year of marriage. After a massive decrease from 2020, of couples filing for divorce:

20% were married in 2020
9% were married in 2019
9% were married in 2018
7% were married in 2017
7% were married in 2016
6% were married in 2015
(source)
The state of marriage in America has been in bad shape for a long time. This is due to many reasons, but can be summarized as:
-People are overstressed with commitments in work and personal life
-An inability to pay bills because of declining incomes, increased expenses, and the burden of debt forced on people to live a 'normal life'
-An unreasonable attitude towards lowering standards, especially among women, to meet needs in family life
-Increased isolation from people
-Legal burdens associated with signing papers for marriage
COVID-19 did not affect marriages. The situation was already bad. Rather, like the rest of the economy, it just exposed what was already there and helped more of the obvious to come out.
For a long-term trend, expect marriage to continue to decline. In fact, it may come to a point where marriage is in such decline, the tax laws may be updated to reflect this over the next two decades. COVID-19 is not the main cause of this, but simply the changing values in society over time.
While it is not funny, this is a case when Puddle of Mudd's "She Hates Me" is all too appropriate given the seriousness of the situation.
.