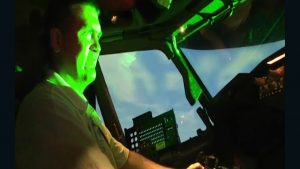 There has been a lot of talk about the fighting between right and left wing protesters. However, according to Fox 5 San Diego, it appears that some of the left-wing protesters engaged in actual terrorism.
A group took to the streets in Santee Saturday calling for justice for women of color.

The protest, Justice for Black and Brown Women led by Women of Color from Santee, started at 3:30 p.m. with dozens of protesters marching through the streets.

The flyer called for justice in the deaths of Breonna Taylor and Vanessa Guillen. Taylor was killed in March when officers from the Louisville Metropolitan Police Department stormed her home while executing a drug warrant in search of a man who didn't live in her apartment complex. The remains of Spc. Vanessa Guillen, a 20-year-old Texas soldier who disappeared in April, were found in a wooded area several miles from Fort Hood in July.

At one point during Saturday's rally, the group blocked the intersection of Mission Gorge Road and Cuyamaca Street while protest leaders called for a series of changes within the city. The march remained peaceful.

The Santee protest came the night after officers appeared to pepper spray a small group of protesters in downtown San Diego. At least nine people were arrested Friday during a demonstration against police brutality and the police shooting of Jacob Blake in Kenosha, Wisconsin.

The San Diego Police Department said two people were arrested for shining lasers at their officers and police helicopter. At least four other people were arrested when police said someone sprayed a chemical irritant at a line of officers. Officers were also kicked and punched, according to police. (source)
I highlighted the incident in bold. Specifically, it was shining a laser beam at a police helicopter.
I want to focus just on this incident because of the serious nature of it, as outside of an actual highjacking or an attack on an airplane, this is considered the most serious violation of airspace safety that can be committed.
"Laser incidents" as they are called are so dangerous because not only are lasers used in weapons, but they can damage airplane equipment or physically blind the pilot, and as a result, it can cause a plane crash.
When a laser incident happens, air traffic controllers have to call:
-Local police
-State Police
-The FAA main emergency office in Washington, DC
-The FBI
-The state National Guard of where the incident happened
-NORAD
-His direct supervisor for the night
-The facility manager for the tower
-The regional manager for the tower
Laser incidents, in the words of a family member who worked for almost three decades for the FAA and has dealt with many laser incidents, describes them as a "major pain in the a**" because when these incidents happen, they disrupt the entire workflow and cause a huge number of problems for many people, as well as consume time and resources, since a full investigation with lots of paperwork has to follow and legal testimony.
It might sound small, but shining a laser at an aircraft is not just a joke. It is treated as an act of terrorism because if the skies are not safe, it shuts down the communication and most importantly, economic/logistic lines for the movement of goods and services, which if fully stopped would cause serious damage to the US economy and threaten her political stability. It is the same reason why crimes against truck drivers are prosecuted as federal crimes, and why truck drivers operate under federal regulations as opposed to solely state ones (i.e. they are bound by the laws of the states they enter, but in the event of a problem, jurisdiction rests with the federal government and if they want to, they can seize it from the state at will), because truck are to roads what airplanes are to the sky.
The fact that it appears that protesters, most likely from the political left, pointed a laser at a police helicopter is a serious act of terrorism, even more than burning and looting buildings, as it threatens the integrity of safe transportation, and unlike political rhetoriticians, this is treated as an act of terrorism by the government and legitimately can be called as such.