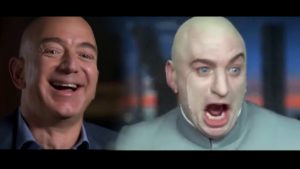 Right now, billions of people are suffering from the fallout of COVID-19, not so much from the illness, but rather from economic effects tied to the illness. According to a recent report by Bloomberg, the biggest "winners" have been billionaires, who have seen record profits this year from the same illness.
It's been one of the most lucrative weeks in history for some of the world's wealthiest people.

The net worth of Amazon.com Inc. founder Jeff Bezos topped the once-unfathomable amount of $200 billion. Entrepreneur, inventor, provocateur Elon Musk added the title of centibillionaire when his fortune soared past $100 billion fueled by Tesla Inc.'s ceaseless rally. And by Friday, the world's 500 wealthiest people were $209 billion richer than a week ago.

Musk's surging wealth expanded the rarefied club of centibillionaires to four members. Facebook Inc. co-founder Mark Zuckerberg, the world's third-richest person, joined Bezos and Bill Gates among the ranks of those possessing 12-figure fortunes earlier this month. Together, their wealth totals $540 billion, according to the Bloomberg Billionaires Index.

This week marked just the latest boon for the personal fortunes of the richest of the rich, whose red-hot growth has been largely driven by surging markets, particularly for tech shares. U.S. stocks reached fresh highs on Friday as investors took confidence in the Federal Reserve's new inflation approach.

…

The heady pace of wealth accumulation is in stark contrast to the state of the global economy. Growth has slumped sharply since the pandemic began with companies laying off millions of workers and consumer demand cratering.

The brunt of economic pain has been borne by young and lower-wage workers, whose jobs are typically more vulnerable to Covid-related layoffs.

"There is little doubt that the pandemic will exacerbate inequality in incomes and wealth, both in the short term and in the longer term," said Miles Corak, an economics professor who studies income inequality at the Graduate Center of the City University of New York. (source)
There is nothing wrong with wealth. However, as the French writer Honore de Balzac is attributed as saying, behind many a great wealth there often is a crime.