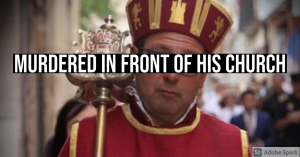 Spain has a long Christian history, but she has also seen a lot of anti-Christian violence. According to the Diocese of Jaen, a priest was violently stabbed to death outside of his church in Alcala, shocking the parish and neighborhood.
The Diocese of Jaén and on his behalf the Bishop, Don Amadeo Rodríguez Magro, show their deep pain and consternation at the tragic event that has cost the life of Francisco José Zúñiga Martín, a faithful collaborator of the Consolación de Alcalá la Real parish.

Francis will always be remembered as a kind man, a great Christian, with a great sense of the Church, as well as with an admirable vocation of service.

The Bishop of Jaén joins the pain of his family and friends and announces that he will preside over the burial funeral that will take place this afternoon, at 5:00 p.m., in the Consolation parish of Alcalá la Real. Likewise, Monsignor Rodríguez Magro asks the faithful to join in prayer to ask for this man of the Church, with a deep sense of community, who has lost his life in a violent, unjust and unexpected way.

In these moments of pain, the Prelate of the Holy Kingdom appeals to the maternal intercession of Our Lady of Mercedes, to whom Paco Zúñiga professed so much devotion, to act as a mediator before her Son for Paco's soul and be consolation for his family and the parish community who now mourn his loss. (source)
I did some research into the priest's murderer, whose name and personal information is not being released, (source), but seems to have been identified as a 22-year-old Romanian migrant and beggar (source).
Further details may emerge, but there is a lot yet to be told about this story. In all fairness, perhaps this priest was a scoundrel- there have been plenty of those too in recent times -and so everything is subject to further evidence. I want to make it very clear that I want to remain very balanced in reporting about this, because as I have noted, Christians in recent times have simply allowed themselves to be tossed about by the emotionally charged waves of public sentiment, and thus have sunk to the depths of being political pawns for the worst refuse of society who wrap themselves in the flag and call upon patriotism as their god and shield against their crimes. Therefore, it is only wise that with Christians losing more political power now than they have in a long time, that they are ever more careful of who they support and what they ascribe to be 'persecution' without a clear investigation.
Either way, it is a story that is not getting enough attention, but if the conditions are what I suspect them to be (but have not proven yet), this priest may have been a real martyr, murdered by a man out of hatred for the Faith. However, his story is being ignored while more politically opportune stories about Christian persecution and "persecution" have been promoted.
Persecution in odium fidei is real. It is going to grow, and it will be a major trend, but never let the pursuit of exposing what is real allow Christianity to be abused for a political token, for Christ did not come to save a political system, but people from the grasp of sin, and it is their stories- the stories of the martyrs and those who became holy and lived lives that are models for others -that must be remembered and told.