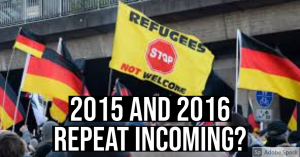 During the 2015 and 2016 migrant crisis, there were many reports and accusations of crimes committed by migrants and refugees against European peoples. Many of these were real, serious, and should not be denied. As we and many others noted, the increase in crime and frustration resulted in a serious drop in support of migrants along with a resurgence of nationalism that has continued and remains a serious trend for the future. The talk about migrant crimes against German and other European citizens is not as pronounced as in the recent past, but it is still present.
However, something that is rarely discussed is the reverse, or crimes against migrants and refugees. According to Zeit, in 2020 there were over 1600 reports of crimes against migrants, which is about four attacks a day or one attack every six hours.
Last year there were an average of four attacks on refugees and asylum seekers every day in Germany. According to preliminary figures for 2020, the authorities registered a total of 1,606 attacks – slightly fewer than in 2019 with 1,620 cases . This emerges from a response from the Federal Ministry of the Interior to a small request from the Left Group, as reported by the Neue Osnabrücker Zeitung . 201 people were injured in these attacks. A further 84 attacks were directed against refugee shelters, 79 of these acts are attributed to right-wing extremists.

The statistics recorded, for example, insults, sedition, damage to property and acts of violence. There were also 67 attacks on aid organizations and volunteers.

Most of the crimes against refugees were reported in 2016, when there were 2,545 cases. Since then, the numbers have decreased from year to year. One reason for this is that fewer refugees are now coming to Germany and fewer people are living in asylum shelters. In an interview with the NOZ , left-wing interior expert Ulla Jelpke said that the figures showed how deeply right-wing extremist violence is in Germany. Their deadly potential was proven by the racially motivated murders in Hanau, Hesse, a year ago, in which an assassin killed nine people.

Despite the corona restrictions on public life and the temporary lockdown, there were more Nazi marches nationwide in 2020, according to the Federal Ministry of the Interior. Accordingly, their number rose from 124 to 133 compared to the previous year; at the same time, the number of participants in these events fell from 19,840 to 14,000. (source)
The overall trend of falling numbers of attacks, while it is a good thing, also gives one to suspect that in the near future, since there seems to be "steam" losing from the anti-migrant movement, that another wave of migration or social unrest will happen to continue to stoke the fires of nationalism.
The biggest concern would be another, as noted above, migration wave. There is a real possibility this may happen as a result of instability in the Sahel region, from Senegal to Eritrea, where now the Tigray crisis has displaced millions of people that have created an ideal situation for another mass movement of people to the north.
If this happens, not only will the wave be larger than before, but its effects will be more severe on society and so will the response from the public.
Pay very close attention to the Tigray situation, as what happens there likely will determine if another migration wave becomes not just a reality, but triggers the political consequences that one saw five years ago.