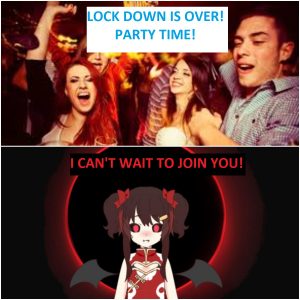 It's not a threat.
It doesn't matter.
COVID-19 is a meme.
Just go out and party.
Go and spend lots of money.
The economy needs it and all is well.
Shoebat.com has continually warned that just because it is not a politically relevant topic in the moment, the threat of COVID-19 has not decreased at all. According to the Stamford Advocate, COVID-19 cases are continuing to climb, there are a lot more infections, and the situation is preparing to become a lot worse as it is actively spreading in many states.
n Texas, North and South Carolina, California, Oregon, Arkansas, Mississippi, Utah and Arizona, there are an increasing number of patients under supervised care since the holiday weekend because of covid-19 infections. The spikes generally began in the past couple weeks and in most states, are trending higher.

Data from states that are now reporting some of their highest seven-day averages of new cases are disproving the notion that the country is seeing such a spike in cases solely because of the continued increase in testing, according to data tracked by The Washington Post.

Many of these states that have experienced an increase in cases have also had an increase of hospitalizations, with a handful of states also nearing bed capacity. Hospitalizations nationwide are difficult to track, with states reporting hospitalization numbers in varying ways, or not at all. Even states that do report hospitalization numbers may not have always received complete data from every hospital in the state at the time of their reports.

Texas has reported 75,616 cases since the pandemic began and in 10 of the past 15 days, the state's average new case number has hit a new high.

As of Tuesday, it has reported two consecutive days of record-breaking coronavirus hospitalizations. The state has seen a 36 percent increase in new cases since Memorial Day, with a record 2,056 current hospitalizations as of early Tuesday afternoon. It was up from a high of 1,935 hospitalizations on Monday.

Texas was one of the first states that decided to relax their state stay-at-home orders. Businesses started to open up in early May. According to the state's health department, Texas has 28.13 percent of available hospital beds open, and 1,723 available intensive care unit beds.

In Arizona, 28,296 cases have been reported as of Tuesday, and in 13 of the past 15 days the state's average new case number has hit a new high. There have been a record number of hospitalizations in the state over the past few days. As of Tuesday, Arizona reported 1,243 current hospitalizations, a 49 percent increase since Memorial Day, when there were 833 cases. (source)