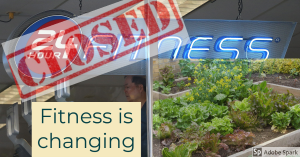 The fitness "industry" in the US is going through a lot of changes right now because of COVID-19. Once a veritable past-time of many and still being so, the concept of "at home" fitness in light of the forced gym shutdowns has compelled many people to cancel their gym memberships. As a result, the industry is being forced to remake itself, and as a part of that a natural contraction is taking place as they consolidate their business model.
24-Hour-Fitness, a well-known gym operator, declared as reported by way of Business Insider that because of COVID-19 they are being forced to declare bankruptcy.
24 Hour Fitness has become the latest casualty of the coronavirus pandemic, filing for Chapter 11 bankruptcy early Monday morning.

The news comes just days after the fitness chain said it would be permanently closing more than 130 locations across the US. A spokesperson declined to comment on how many jobs would be impacted by this when contacted by Business Insider.

In a statement to the press, company CEO Tony Ueber called out the coronavirus pandemic as being the main reason for its recent bankruptcy.

"If it were not for COVID-19 and its devastating effects, we would not be filing for Chapter 11," he said. "With that said, we intend to use the process to strengthen the future of 24 Hour Fitness for our team and club members, as well as our stakeholders."

But its woes predated the pandemic. The company was lumbered with a heavy debt load, and at the end of 2019, its financial rating was downgraded by Moody's following "a sizable decline in membership count" and "an acceleration in comparable club revenue declines in the third quarter."

Through its Chapter 11 filing, 24 Hour Fitness said it has secured around $250 million in funding to enable it to reopen its remaining locations and resume business. It expects the majority of its remaining 300 or so locations to be open by the end of the month. (source)
I used to belong to one of their gyms, as it was local to my area many years ago.
It is unfortunate to see businesses close, but this was the likely future for many of such gyms.
However, instead of working out in a gym, consider just as COVID-19 has demonstrated, that one takes one's workouts literally "outside" as much as possible, and in the form of either making use of public and free things, or if one is able to, working in a garden or in nature.
One can get a lot of exercise working outside. Just observe any of the old immigrant women or men in the US today, as one can easily find in many communities a migrant family from nations such as Ukraine, Vietnam, or Pakistan, with the elderly grandparents squatting in a garden picking fruits or vegetables, and many of these people much healthier in comparison to Americans of the same age.
The future of America looks a lot more like that of the old world, with all of the problems and challenges. Noting this pattern to be holding true and seemingly to be a major trend for the future, the wise man will take advantage of this situation and use it see that the closure of gyms is just one adjustment on the road, and that the way to personal fitness for the future may not be in giant muscles and women prancing about in spandex while on an elliptical machines and reading a magazine at the same time, but rather in returning to time-tested ideas such as those held for people over centuries where one receives health benefits from the labor he does to produce some of the food that he eats, for as anybody who is serious into fitness will declare, it is not just a thing that one does, but is a way of life that one follows as part of a philosophy, and that is not something which is scheduled or a location that a man drives to.