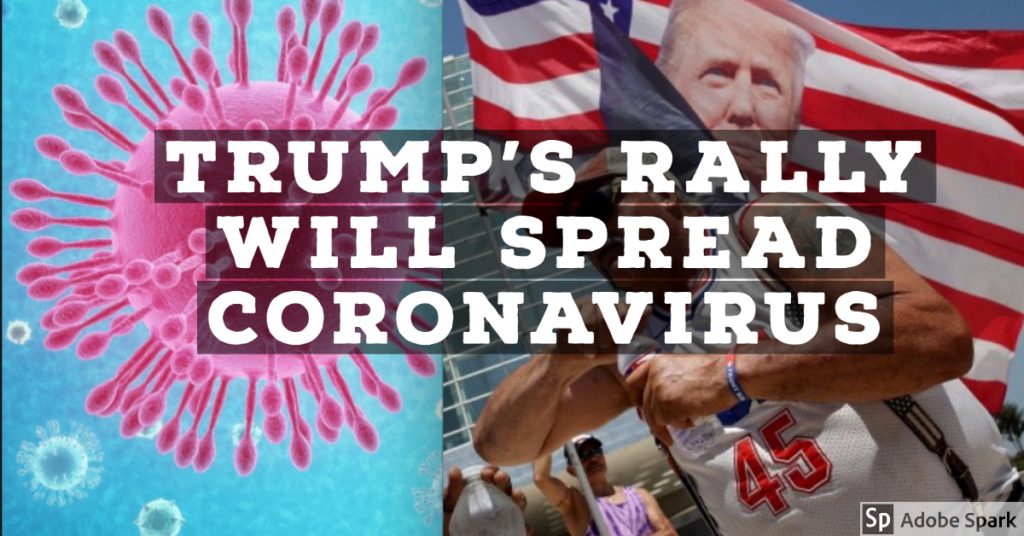 By Theodore Shoebat
Six people who were helping set up Trump's rally in Tulsa tested positive for coronavirus, according to the AP:
President Donald Trump's campaign says six staff members helping set up for his Saturday night rally in Tulsa, Oklahoma, have tested positive for coronavirus.

The campaign's communications director, Tim Murtaugh, said in a statement that "quarantine procedures" were immediately initiated and no staff member who tested positive would attend the event. He said no one who had immediate contact with those staffers would attend, either.

Murtaugh said campaign staff members are tested for COVID-19 as part of the campaign's safety protocols.

Campaign officials say everyone who is attending the rally will be given temperature checks before they pass through security. They will also be given masks to wear, if they want, and hand sanitizer at the 19,000-seat BOK Center.

The rally was expected to be the largest indoor gathering in the world during the pandemic.
Just like I criticized the George Floyd protests, I will criticize this rally nonsense. When you have thousands of people together in a crowd, there are countless micro-droplets filling the air and infecting people. Temperature checks will not help. People can be asymptomatic and show no symptoms and spread the virus around and infect those who will show symptoms and be susceptible to death. If we are going criticize Black Lives Matter for making rallies during a pandemic, then Trump deserves the same criticism.