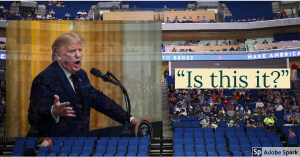 Trump seems to have an 'explosive' personality both on shows and in real life. This seems to have come out again as NBC News reports that Trump is "furious" after the "major failure" of a rally in Tulsa where few people attended.
President Donald Trump is "furious" at the "underwhelming" crowd at his rally in Tulsa, Oklahoma, on Saturday evening, a major disappointment for what had been expected to be a raucous return to the campaign trail after three months off because of the coronavirus pandemic, according to multiple people close to the White House.

The president was fuming at his top political aides Saturday even before the rally began after his campaign revealed that six members of the advance team on the ground in Tulsa had tested positive for COVID-19, including Secret Service personnel, a person familiar with the discussions said.

Trump asked those around him why the information was exposed and expressed annoyance that the coverage ahead of his mega-rally was dominated by the revelation.

While the Trump re-election effort boasted that it would fill BOK Center, which seats more than 19,000 people, only 6,200 supporters ultimately occupied the general admission sections, the Tulsa fire marshal told NBC News.

…

Many issues could have contributed to the poor attendance in Tulsa: a fear of contracting the virus, concern over potential protests and torrential thunderstorms in 95-degree heat. But outside advisers see the visuals of empty seats overshadowing Trump's remarks as a significant problem for a president and a campaign that are obsessed with optics.

"This was a major failure," one outside adviser said. (source)
The reason why the rally was a "major failure" was because Trump is a "major failure" of a President.
It's not hard to understand why people did not show up, and certainly this has nothing to do with COVID-19 because most people don't care a lot about the disease, regardless of political affiliation. People will protest, or do other things, but they did not go to the rally, and it is because they are very angry with Trump for doing such a horrible job as president.
Trump had a hard series of tasks ahead of him. However, this is not the concern. Rather, it is Trump's complete abandonment of his promises made. He promised a lot of things. However, what people really wanted was for him to just TRY and follow through on some of what he said. This he has no excuse for, because Trump not only did not follow through, he did not even try, and many times he did the opposite of what he promised.
I've used the example before, but who gave more gun rights- Trump or Obama? Who improved relations with Iran- Trump or Obama? Who took principled stances, even if one did not agree, on various issues and explained them- Trump or Obama?
What people have come to see is that while most politicians do not have principles, Trump is so unprincipled and so blatant in his actions that there is no way to justify his behavior any more.
Trump needed to be given a fair chance to prove himself. He was given a fair chance- a very fair chance for a very long time. He really did have the opportunity to, even if it was only partial, 'make America great again', at least for a time, but he did not. Instead, the Trump administration has been one giant reality TV show except this is real life with real world consequences for now and the future.
Trump probably is very angry right now, but the only person he can be angry with is himself because he created the situation that he finds himself in. All Trump needed to do was to be honest, even in a small way, and follow through in a way that the people who begged him for help could sense. But he did not, and now as a result, a dementia afflicted man with a history of sexual misconduct and strange behavior is getting more support than he.
How will the 2020 election look? Unfortunately, it may be a repeat of the 2000 elections, where Bush II won by a hair over Gore in a highly contested ballot count from Florida amid swirling accusations of public corruption and abuse that seem not to be fantasy but based in reality.