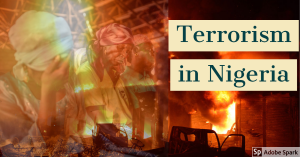 It is unfortunately not a new phenomenon, and has been going on for years, and in spite of international claims for 'inquiries' it is likely that nothing will be done, which is the abuse of Christians in Africa, especially the geopolitical hot-spot of Nigeria, where Muslims in the northern Sahel regions- also which is a major center of oil transit to Europe and has been a the center of US-French operations and now German in the region -have been attacking and murdering Christians, such as the Christian Post reports on the recent destruction of hundreds of churches and murders of Christians that one UK rights group is reporting could spiral from ongoing violence into an outright genocidal conditions.
Violence against Christians in Nigeria "can pave the way for genocide," a group of U.K. parliamentarians warned this week in a new report analyzing the impact of violence carried out by Boko Haram extremists and Fulani militias throughout the West African country.

The U.K. All-Party Parliamentary Group for International Freedom of Religion or Belief, a bipartisan group of lawmakers from both houses of parliament, released its new report "Nigeria: Unfolding Genocide?" on Monday.

As Nigeria continues to struggle with the Boko Haram insurgency and the existence of its splinter group, Islamic State West African Province, APPG members are concerned about reports of escalating violence characterized as a "farmer-herder conflict" even though a disproportionate number of killings are being carried out by militant Fulani herdsmen against predominantly Christian farming communities in the country's fertile Middle Belt region.

International rights advocates have contended that the standard for genocide has been reached in Nigeria as estimates have suggested that thousands of Christians have been killed in the Middle Belt as a traditional arbitration process between farmers and herders over damaged crops has broken down in recent years.

Violence in both the Middle Belt and northeast Nigeria (where Boko Haram and ISWAP commit atrocities) has led to the mass displacement of millions as entire communities have been forced to flee in fear for their lives in the wake of massacres.

"Among all the injustices for the U.K. to help correct in the near future, the widespread and growing persecution of Christians should be top of the list," Member of Parliament Jim Shannon said in a statement. "Thus, as the U.K. faces the challenge of lockdown and mass quarantine for the first time in living memory, I ask you to please spare a thought for those Christians who face not only a pandemic but also threats of violence and persecution that we can't imagine."

The report urges the government of Nigeria and the international community to implement recommendations to help save the lives of Nigerian citizens, such as comprehensive investigations and prosecutions.

"As Nigerian Government Ministers have publicly and rightly admitted, Christians are being ruthlessly targeted, specifically because of their Faith," the report states. "Undoubtedly though, peaceable Muslims, through collateral violence, can also become victims of this cruel Islamist religious ideology. It is a destructive and divisive ideology which readily mutates into crimes against humanity and can pave the way for genocide."

"We must not hesitate in saying so," the report adds. "Unfortunately, Boko Haram are not the only threat that Nigerian Christians face. Attacks by armed groups of Fulani herdsmen have resulted in the killing, maiming, dispossession and eviction of thousands of Christians. It is difficult for us in the West to sometimes even imagine this kind of suffering, so it is important that we recognize the stories of survivors." (source)
But will anything happen? I doubt it. There are many issues, but the deaths of Christians at the hands of terrorists serves multiple purposes, the two major ones being that they invite a foreign (US, UK, French, etc.) presence into the nation in the name of "bringing stability", and they also cause populations to want to migrate, which has been noted since 2016 as something driven by US and European policy to bring migrants into Europe and use them as a lever by which to cause social change through the promotion of nationalism and other of such ideas.
Christians will continue to find themselves isolated, disliked, and hated by the world as they have always been, but more so as their loss of political and economic power continues. This is another reason not only to be aware of such events, but as one is able to, to try and provide aid to those in need.