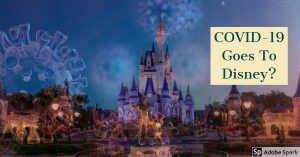 Disney World has sometimes been described as the 'happiest place on Earth', but getting sick is not a happy thing. In fact, the spread of COVID-19 cases to various areas has been connected to visits to Disney World. It is not hard to imagine why- putting a lot of people in a close area is going to spread germs, and in teh case of a pandemic, it is an ideal environment for spreading illness.
Therefore, it is of great interest as FOX 35 reports that Disney World is continuing forward with plans to re-open in spite of increasing numbers of COVID-19 cases.
Despite a spike in COVID-19 cases and calls to postpone the reopening, a Walt Disney World spokesperson confirms to FOX 35 News that the parks will reopen in July as scheduled.

All eyes are on Disney's Florida parks after Disneyland in California postponed its reopening plans amid a wave of new COVID-19 cases there. Disney is still negotiating with unions that work at Disneyland, who are concerned about public health due to COVID-19.

Many are now wondering if Disney World will follow suit due to Florida's spike in cases. The Actor's Equity Association is calling for the "Mouse House" to hold the gates. There is also an online petition with more than 10,000 signatures and

…

Disney World had the all-clear to reopen nearly a month ago. Also, a possible factor in the decision to delay Disneyland is that no ticket reservations had been taken. Here in Florida, tickets are already booked.

"This would be the second cancellation for some people, and I think people are understanding when something like this happens and they have to cancel once, when you're starting to do multiple cancellations on them and you're stringing them along, that's when people get frustrated," said Niles.

The Magic Kingdom and Animal Kingdom open July 11. Epcot, and Hollywood Studios will reopen July 15. (source)
COVID-19 cases are not just an issue with theme parks. Pandemics do not discriminate, have political preferences, racial affinities, or other social distinctions. They just infect an able host that they can successfully latch on to.
This pandemic is not going to go away probably until late 2021. Until it passes- as pandemics always do -there are going to have to be extra measures taken to ensure public health. This is what the entire push for regulations about public health and masks pertains to- the ability to strike a balance between the need for public health and the need to carry on vital functions for the economy.
But the rush to 're-open'? This is not balanced or balancing health and economics, but is prioritizing attempts at making up profit losses by risking the health of many, and such actions are never going to end well.