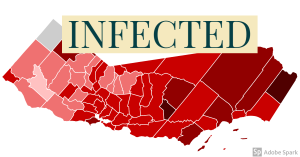 COVID-19 has not abated at all as a threat, but just as a threat can either take different forms, appear at a later time, or both, this seems to be what is happening with COVID-19. It is spreading as we speak, but at the same time, as the numbers rise, scientists point to a time when there could be a 'second wave' of the illness later this year.
According to the LA Times by way of MSN News, COVID-19 cases are spiking all across California, and this is likely a sign of worsening conditions for the future.
Another day of big increases in both coronavirus cases and hospitalizations prompted health officials Saturday to warn Los Angeles County is entering a "critical moment" and that some of the easing of stay-at-home orders are in jeopardy unless the trend changes.

a woman holding a sign: Tiara Jones, and Keevan Givens, of Jackson, Miss., on vacation at the Santa Monica Pier. (Gary Coronado / Los Angeles Times)© (Gary Coronado / Los Angeles Times) Tiara Jones, and Keevan Givens, of Jackson, Miss., on vacation at the Santa Monica Pier. (Gary Coronado / Los Angeles Times)
Los Angeles and many other parts of California have seen big COVID-19 spikes in recent weeks, as the economy has reopened. Officials say it's essential to following social distancing rules and other safety regulations.

"If we can't find it in us to follow these mandates, including wearing face coverings and distancing when around others, we jeopardize our ability to move forward on the recovery journey," Barbara Ferrer, the county health director, said Saturday in a statement. "Our collective responsibility is to take immediate action, as individuals and businesses, to reverse the trends we are experiencing."

Los Angeles County public health officials on Saturday reported 2,169 new coronavirus cases.

The county also reported 23 coronavirus-related deaths, bringing its total to more than 95,500 cases and nearly 3,300 deaths. There were 1,698 confirmed coronavirus patients in county hospitals, an increase from the 1,350 to 1,450 daily hospitalizations the county was seeing two weeks prior, officials said.

This comes a little over a week after the county permitted the latest round of business sectors, including bars, nail salons and tattoo parlors, to reopen, and about a month after hundreds of thousands of people began taking to the streets for protests decrying the police killing of George Floyd and other Black Americans.

The alarms over the rising case numbers extends across California, where statewide cases approached 210,000. Some officials are cracking down on scofflaw businesses while others are preparing to help overwhelmed hospitals.

In San Diego County, the health department on Friday ordered an Escondido restaurant to close immediately, saying its proprietor refused to follow public health directives imposed to prevent coronavirus outbreaks.

And Belmont Park, an amusement park in Mission Bay, was closed Friday afternoon by officials who said it was operating rides in violation of state guidelines. The shutdown came on the same day that county officials announced the highest number of diagnosed COVID-19 cases in a single day.

In San Bernardino County, officials said many hospitals are getting closer to reaching "surge capacity" and that they are making plans to open alternate care sites for patients if hospitals fill up.

On Friday, Gov. Gavin Newsom said he was recommending that Imperial County reinstitute stricter stay-at-home orders after it continued to report the highest per-capita case rate of any county in the state, as well as the highest test positivity rate.

The county Board of Supervisors took no immediate action to direct businesses to shut down, but local officials were meeting with a state delegation Saturday to decide how to proceed.

San Francisco has also decided to pause the relaxation of its stay-at-home orders amid a rise in new cases, Mayor London Breed announced Friday.

Los Angeles County health officials also said they've received reports of bogus mask exemption cards "that depict a government seal with threatening language." The information is false, and everyone except children younger than 2 should wear a face covering any time they leave the house, they said.

The increases in L.A. County reflect a statewide trend. California has logged record-breaking numbers of daily new cases on several occasions this week, with 5,700 new infections confirmed on Friday alone.

As of Thursday, California had seen a 32% increase in hospitalizations of patients with confirmed COVID-19, and a 19% jump in ICU patients with verified infections, over the previous 14 days.

And as of Friday, 5.7% of coronavirus test results in California over the preceding seven days had come back positive, a rate not seen since early May, a Times data analysis found. A week ago, the rate was 4.7%, a rate that had been largely stable for June until Sunday, when there was a dramatic shift in the numbers. (source)
I have noted before and I will note again that these numbers are going to likely rise by a lot, especially after summer passes.
Enjoy this summer. Get done as much as you can. Because when the fall comes, it is not going to just be the start of colder weather, but a likely round of more infections that will dwarf the current round.
Be ready.