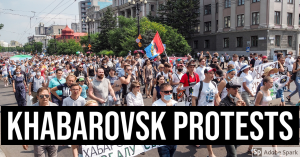 According to the Associated Press, protests erupted throughout the city of Khabarovsk after the governor was arrested on charges of murder and political corruption.
Thousands of demonstrators rallied Saturday in the Russian Far East city of Khabarovsk to protest the arrest of their governor, keeping up a three-week wave of opposition that has challenged the Kremlin.

Smaller demonstrations took place in at least 10 other cities and 55 people were detained in those protests, according to the OVD-Info organization that monitors political arrests. No detentions were reported at the Khabarovsk rally.

Khabarovsk Krai Gov. Sergei Furgal has been in a Moscow jail since his July 9 arrest on charges of involvement in murders that occurred before his political career started. He has denied the charges.

Protesters in Khabarovsk see the charges against Furgal as unsubstantiated and are demanding that his trial take place in his home city, 6,100 kilometers (3,800 miles) east of the Russian capital.

His supporters have held daily protests, with the largest turnouts on weekends. The latest demonstration attracted about 10,000 people, according to some news reports. Police claimed the crowd was about 3,500.

Unlike in Moscow, where police usually move quickly to disperse unsanctioned opposition protests, authorities haven't interfered with the unauthorized demonstrations in Khabarovsk, apparently expecting them to fizzle out.

Authorities suspect Furgal of involvement in the slayings of several businessmen in 2004 and 2005, when he was a businessman with interests focusing on timber and metals.

A lawmaker on the nationalist Liberal Democratic Party ticket, Furgal won the 2018 regional gubernatorial election even though he had refrained from campaigning and publicly supported his Kremlin-backed rival.

His victory was a humiliating setback to the main Kremlin party, United Russia, which also lost its control over the regional legislature. During his time in office, Furgal earned a reputation as a "people's governor," cutting his own salary, ordering the sale of an expensive yacht that the previous administration had bought and offering new benefits to residents.

Russian President Vladimir Putin named Mikhail Degtyaryov, a federal lawmaker who is also a member of the Liberal Democratic Party, to replace Furgal, a choice that was apparently intended to assuage local anger. Degtyaryov has not yet faced the protesters. (source)
I don't want to "take sides" here in Russian politics, since it is notoriously corrupt and there really is no good side in almost any case. The governor may have been involved in corruption, and possibly contract murders, but the Kremlin is notorious for this, and what corruption a single man may have done, as bad as it is, is very weak in comparison to this history of "influence" wielded by the, without exaggeration, mafia that operates centrally out of Moscow.
While corruption and fighting between various "princes" and "kingmakers" in Russia is not uncommon, what makes this so interesting is that Khabarovsk is a major Russian city in the Far East, and on the border of China. As I have noted, Russia is struggling to keep control of her territories east of the Urals, and there is a serious chance that they could "break away" and for their own nations. The social and geopolitical trends support this, and if this does happen, it strips Russia of her power because Russia derives her power from Siberia as MacKinder pointed out in his theory. Russia is going to try at all costs necessary to stop this, because if it does, it means the end of the Russian Empire, and the likely reduction of Russia to pre-1550 status, where she was a nation of warring states confined to the regions east of the Urals and the northern parts of the Volga basin.
This arrest is most likely a political hit, and there is likely a lot more going on than what we see. Was he working with the Americans, or perhaps even the Chinese (for all of the talk about Russo-Chinese friendship, the two hate each other, and Russia legitimately fears that China will attempt to annex Siberia by population transfer) powermakers? One does not know. Could it be just an act of revenge between former friends turned rivals? That is possible too. But with Russia increasingly isolated from her allies but seeking them, and needing to take an authoritarian approach as it is her historical method of operation as well as what she needs to try to control what territory she has centrally, it will be interesting to see if this is part of a larger trend affecting the balance of power in the Far East.