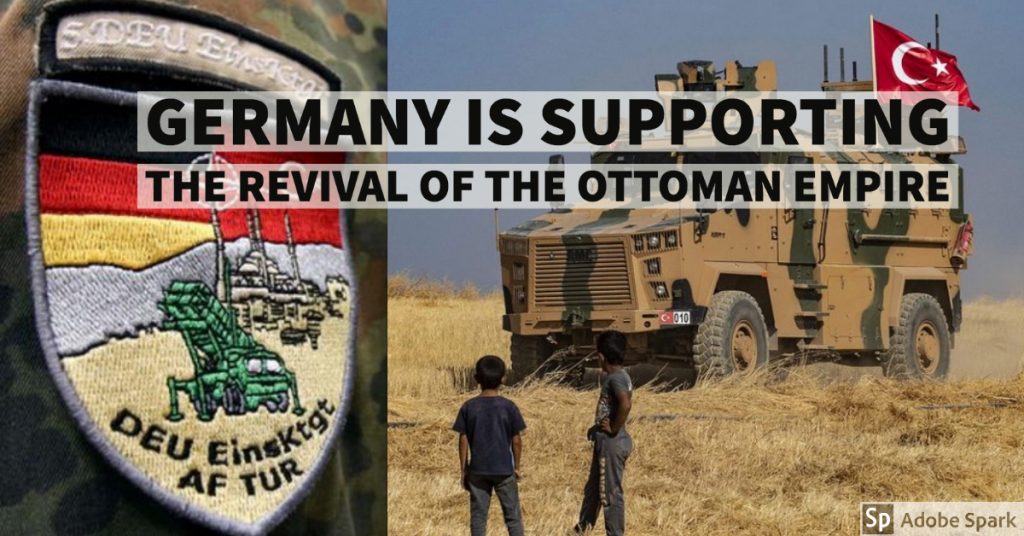 By Theodore Shoebat
Remember when it was being reported of how there were all these tensions between Germany and Turkey over the Turkish invasion of northern Syria? Well it has now been revealed that Germany approved of millions in arms to be sent to the Turkish military, as we read in a report from the Daily Sabah:
<blockquote
Germany approved millions of euros worth of arms deliveries to Turkey after its cross-border counterterrorism operations into Syria, according to the response to a parliamentary query fielded by Sevim Dağdelen of Die Linke (The Left) party.
In the nine and a half months between the start of the operation on Oct. 9, 2019, through July 22, 2020, the government gave the green light for deliveries worth 25.9 million euros ($30.4 million.) But there were no weapons of war among those exports, according to the response provided by the economics ministry which DPA has seen.
Turkish troops entered northern Syria to combat the YPG terrorists, the Syrian offshoot of the PKK terrorist group. The German government then imposed a partial arms export ban, which only applies to weapons and other military equipment that can be used in Syria.
In 2018, arms sales to Turkey – a NATO ally – totaled 242.8 million euros, making up for almost a third of Germany's defense industry business. This made Turkey by far the No. 1 importer of German weapons.
I remember last year writing on how the supposed tensions between Germany and Turkey was a show. I wrote in November of 2019:
The perception of German-Turkish tensions I believe is created to make people think that the Germans and Turks are not completely in cahoots. When Turkey was doing its offense in Afrin in 2018, the Turks were using German Leopard tanks. In January of 2018, it was confirmed that Germany had been supplying Turkey with Leopard 2A4 tanks for its offensive against Afrin. The public outcry over this was so loud that Germany announced that it would suspend a request by Turkey for German arms manufacturer Rheinmetall to upgrade the tanks to make them less vulnerable to explosives. But this was all a show, since Germany did not cease its supply of tanks to Turkey.
Should we even be surprised by this? Germany and the Turks have been allies since German unification in 1871. Such a long history is not going to change any time soon.
Germany's new Defense Minister, Annegret Kramp-Karrenbauer, wants to put thousands of German troops in Syria as a way to help stabilize the region. According to a report from Kurdistan24, Germany wants to deploy 2,500 troops, including scouts, special operations forces, and armored vehicles. She wants this force of German troops to work in conjunction with both Russia and Turkey. In an interview that she did with DW, Karrenbaur said:
"My recommendation is that we establish an internationally controlled security zone in cooperation with Turkey and Russia. This security zone would seek to resume the fight against terror and against ISIS, which has currently come to a standstill."
Now, Karrenbaur is stating that one of the goals of Germany is to make sure that Turkey does not remain permanently entrenched in Syria. But, she also affirms that the move cannot be done without talks with Turkey and seeing to it that Turkey's own interests are respected in talks on Syria:
"We have to see to it that on the one hand, Turkey does not remain in northern Syria. We see the invasion as a violation of international law. So the current situation must not be extended. And, on the other hand, that the territory of Syria remains intact as stated in the resolution passed by the United Nations, and that the constitutional process currently getting underway is continued. In my view this requires a strong European initiative, one we should discuss bilaterally with Turkey and Russia. … In my view it is essential that we include Turkey in the discussions, because Turkey undeniably has its own security interests."
In this, Karrenbaur appears to be duplicitous. For one, she says that Turkey cannot remain forever in Syria nor take more territory. She then says that Turkey's own interest must be factored in. Turkey's interests, ultimately, is to control the Middle East. So how can there be any serious discussion on preventing an expanding Turkey if Turkey's interests are going to be seen as something of importance? Turkey is not in Syria to be limited to only one part of a region, but to completely supplant the Syrian state. Remember what Erdogan said: "We entered [Syria] to end the rule of the tyrant al-Assad who terrorizes with state terror. [We didn't enter] for any other reason". Turkey's invasion of Syria is being done to completely remove the Assad government. In other words, its a takeover. Turkey's interest is domination. So if Germany is going to respect Turkey's interests, then Germany is going to have to back further Turkish expansionism. By this, Germany is supporting the revival of Turkish power, which means the revival of the Ottoman Empire.
If Turkey continues to push further into Syria, expect more Syrian migrants moving out for Europe, which means more ethno-nationalism in Europe. Germany's policies is actually helping the ultranationalist cause, and it makes you wonder if this is what Germany wants.