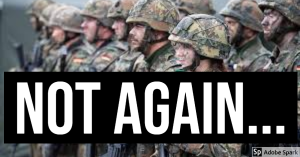 We have been warning you at Shoebat.com that Europe- specifically Germany -is going to go back to war. We have said to watch for remilitarization efforts and reductions in purchasing from the US as a part of this. Now according the German newspaper Weil am Sonntag by way of RT, France and Germany are moving to "rely less" on weapons purchases from the US and they begin to produce more of their own weapons.
France and Germany want to cut their technological dependence on the US – a NATO ally – and rely more on their own products when it comes to manufacturing military equipment, according to German newspaper Welt am Sonntag.

Military producers in Germany and France are reportedly attempting to phase out US technologies in helicopter construction, making a new assault rifle for the German Armed Forces (Bundeswehr), as well as a new fighter jet developed under the Future Combat Air System (FCAS) program, led by the two nations' planemakers.

The protection of sensitive data is one of the reasons behind the push to gain more independence from the US in military production, the German outlet reported. Moreover, the companies are concerned that Washington maintains control over any equipment using its technology under the International Traffic in Arms Regulations (ITAR), and can therefore block arms exports.

"Without ITAR and other US regulatory systems, Europe gets more freedom in who to supply with military products," said Florent Chauvancy, sales director of the Helicopter Engines Department of French manufacturer Safran, as cited by the publication.

According to the report, Safran wants to partner with German manufacturer ZF Friedrichshafen to develop a new drive which could be installed in a large military drone. However, it is currently unclear whether the European military's bid to completely avoid US technology is a realistic one.

The news comes shortly after the US announced the withdrawal of roughly 12,000 US troops from Germany, as US President Donald Trump repeatedly accused Europe – and Berlin in particular – of failing to pay its share of NATO's defense costs. At the same time, the president said he doesn't want to "protect" Germany, as it pays "billions of dollars" for imports of energy from Russia. (source)
This is a very bad sign of what we have warned about, and this comes not long after Trump pulled more US troops out of Germany.
We have said before, and will say again, there is going to be a Third World War. We are seeing a scramble for Africa right now as well as the rise of nationalism, resource fighting, political divisions, and racial tensions alongside a failing global economy. These are all major signs of war.
The 2020s are going to be a decade of remilitarization, and by the end of the 2020 and early 2030s, there is a strong chance there will be war.
Watch Germany closely- she has a very long history of war, and the worst wars the world has ever seen (World War II, World War I, and the Thirty Years War) all began in Germany, and this should be a lesson, for as the Germanic lands quake, the Earth itself prepares to be shaken to her core once more again.
Be ready for this- don't get caught unprepared.

.