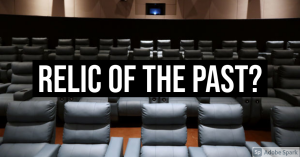 The movie theatre has been an American pastime for about a century, serving as the first "televisions" and later as a twentieth century cultural experience. However, some things pass away with time. For example, the horse, a famous and traditional "vehicle" in various forms, gave way to the car beginning in the 1910s. Likewise, the movie theatre, as CNBC notes, is also going the same way, accelerated by the events of COVID.
The theatrical window isn't broken, but it is full of cracks.

Like so many other digital trends that have been accelerated by Covid-19, the way we watch theatrical releases saw big changes throughout 2020. The most significant shake-up: On Thursday, AT&T's WarnerMedia announced that all 2021 theatrical releases from Warner Bros. will debut simultaneously on HBO Max for U.S. subscribers at no extra cost.

That means if you're already an HBO Max subscriber, you'll get to watch blockbusters like "Dune," "The Matrix 4″ and "The Suicide Squad" from your living room couch instead of risking a trip to the theater next year. (WarnerMedia previously announced that "Wonder Woman 1984" will debut on HBO Max on Christmas Day.)

Everyone saw this coming. With the rise of streaming video, interest in going to a theater and spending all that time and money to watch a two-hour movie plummeted except for the biggest blockbusters. The smartest thinkers in media saw a not-to-distant future where lining up outside a theater for a movie release would become a niche event only for the most dedicated cinephiles. And then Covid hit, theaters were forced to close and studios had to dream up innovative ways to get eyeballs on their slate of 2020 releases.

There's been a lot of experimentation throughout the year from various studios. Early on in the pandemic, Disney released its Pixar animated movie "Onward" directly on its Disney+ streaming service, for example. And several movies, like Universal's "Trolls: World Tour" and "King of Staten Island" were released straight to on-demand platforms.

But as it became clear that theaters would remain closed for months or reopen with strict capacity restrictions, studios were forced to get even more creative as 2020′s blockbuster movies saw delay after delay. (source)
The passing of the theatre as a trend is also related to the rise in isolation and a general detachment from other people. One of the reasons people went to the movies is to 'live' an experience through another, as psychologically speaking, the brain does not distinguish between what it sees versus reality. The same experience persists, but now it is through games and online interaction. The same concept is preserved, but in a different form.
It is not that as a trend, people do not want to be entertained any more, but that the forms of entertainment are turning in on themselves, like a bubble formed by one's own hand that seals one off from the rest of the world. This has been growing for a long time, but is only getting more pronounced with the different forms of technology.