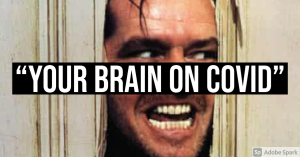 One of the interesting aspects of COVID is that we can see its effects in real time on people to see how the virus alters short and long-term behavior. For example, it is known that people who get Lyme Disease can be cured, but it is also a well-established fact that "long-term Lyme" is real too. This seems to be the case with COVID, where as Dnyuz reports there is a growing consensus that COVID, in some patients, causes long-term insanity and psychosis.
Almost immediately, Dr. Hisam Goueli could tell that the patient who came to his psychiatric hospital on Long Island this summer was unusual.

The patient, a 42-year-old physical therapist and mother of four young children, had never had psychiatric symptoms or any family history of mental illness. Yet there she was, sitting at a table in a beige-walled room at South Oaks Hospital in Amityville, N.Y., sobbing and saying that she kept seeing her children, ages 2 to 10, being gruesomely murdered and that she herself had crafted plans to kill them.

"It was like she was experiencing a movie, like 'Kill Bill,'" Dr. Goueli, a psychiatrist, said.

The patient described one of her children being run over by a truck and another decapitated. "It's a horrifying thing that here's this well-accomplished woman and she's like 'I love my kids, and I don't know why I feel this way that I want to decapitate them,'" he said.

The only notable thing about her medical history was that the woman, who declined to be interviewed but allowed Dr. Goueli to describe her case, had become infected with the coronavirus in the spring. She had experienced only mild physical symptoms from the virus, but, months later, she heard a voice that first told her to kill herself and then told her to kill her children.

At South Oaks, which has an inpatient psychiatric treatment program for Covid-19 patients, Dr. Goueli was unsure whether the coronavirus was connected to the woman's psychological symptoms. "Maybe this is Covid-related, maybe it's not," he recalled thinking.

"But then," he said, "we saw a second case, a third case and a fourth case, and we're like, 'There's something happening.'"

Indeed, doctors are reporting similar cases across the country and around the world. A small number of Covid patients who had never experienced mental health problems are developing severe psychotic symptoms weeks after contracting the coronavirus.

In interviews and scientific articles, doctors described:

A 36-year-old nursing home employee in North Carolina who became so paranoid that she believed her three children would be kidnapped and, to save them, tried to pass them through a fast-food restaurant's drive-through window.

A 30-year-old construction worker in New York City who became so delusional that he imagined his cousin was going to murder him, and, to protect himself, he tried to strangle his cousin in bed.

A 55-year-old woman in Britain had hallucinations of monkeys and a lion and became convinced a family member had been replaced by an impostor.

Beyond individual reports, a British study of neurological or psychiatric complications in 153 patients hospitalized with Covid-19 found that 10 people had "new-onset psychosis." Another study identified 10 such patients in one hospital in Spain. And in Covid-related social media groups, medical professionals discuss seeing patients with similar symptoms in the Midwest, Great Plains and elsewhere. (source)
As far as for trends, there is any number of things this could mean. However, it is likely going to have policy implications in the future, especially for COVID vaccines, as it may be justified that people who do not have a COVID vaccine are now a threat to spreading a potentially brain-destroying (if one can call it that) illness to others.
Regardless of what one feels about COVID or not, the fact is that something is very real about this disease that should give all concern, and while wearing masks is annoying, it would be far more annoying to potentially get a life-long and incurable condition, for remember, conspiracy or not or a little of both, there is still a lot we do not know and as the age-old saying goes, "an ounce of prevention is worth a pound of cure.'