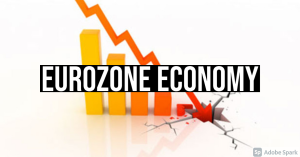 COVID-19 has affected the entire world, and it is causing economic of all sizes, great and small, to crash tremendously. In a not unexpected report from Rabobank, The Eurozone showed no economic growth, but contracted again, making a loss of 6.8% for the whole year.
This morning's GDP figure for the Eurozone shows the economy contracted in the final quarter of last year with 0.7% q/q (figure 1) and 6.8% in 2020 as a whole – compared to 3.7% in 2009 (figure 2). Hence the second COVID wave that started end-summer delayed the recovery, as expected, but the overall economic drag of the virus upsurge was smaller than the consensus only a few weeks ago. This story that holds for most member states, as we also explained in a note last Friday. Spain outperformed the group with small growth of 0.4% q/q, while Austria was the weakest link, contracting by 4.2% q/q.

A breakdown into expenditure components or sectors for the Eurozone is not yet available. But based on member states' data, we know that the service sector took a small hit, while manufacturing sector activity increased. Both activity in the service sector and the manufacturing sector seem to have performed better than expected. There are several reasons, yet an important one is that in general the economy seems to be better able to cope with restrictions than expected based on experience in Q2: more restaurants do take-away, more shops sell online – more people buy online -, and working from home facilities have improved. (source)
The "economy of the Eurozone can largely be replaced with "Germany", since Germany and then France make up the core structure of the European Union's economic machine. Because of this, a major contraction in the Eurozone really means a contraction in Germany, which means that Germany is having economic problems, and they are not going away because of the enduring issue of COVID.
I have cited it many times before, but as Niklas Frank, the son of former National Socialist Governor of Poland Hans Frank said in an interview with the BBC said that Germany was close to returning to her past, and it would only take five to ten years of heavy economic problems to do this.
Remember his words, because if anyone is qualified to talk about German history and the dangers of the current social and political movement and trends, it is Frank, and sadly, his warnings may be coming true with each economic report that comes out from the E.U..