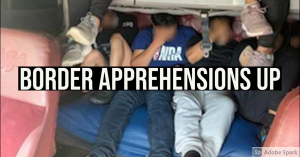 As soon as Biden won the presidency, the news cycle seemed as though it began to report above average attempts and illegally crossing the US border. However, upon industry data reported by the trucking magazine The Trucker and citing reports from US Border Patrol, this seems to bear out, as the border patrol has seen an increase in interceptions.
Officials with U.S. Customs and Border Protection's (CBP) Big Bend Sector say they have seen a "notable increase" in undocumented immigrants found in sealed cargo trailers, moving trailers and even livestock trailers. These trailers were not equipped with proper ventilation, food, water or protection from the elements, escalating the dangers faced by illegal immigrants.

Agents made apprehended more than 80 people in three separate events Jan. 24, 29, and 30. According to a CBP statement, the smugglers were discovered to have active warrants, weapons in the vehicles and previous criminal histories. Prosecution is ongoing under the appropriate statutes, and the vehicles, weapons and trailers have been seized. The migrants apprehended during the three events are citizens of Mexico, El Salvador, Honduras and Guatemala. All subjects were processed according to Big Bend Sector protocols for immediate removal or further criminal prosecution.

Agents with CBP's Laredo Sector also stopped human-smuggling events involving trailers over the weekend of Jan. 30-31.

On Jan. 30, agents with the Laredo South Station responded to a citizen's report of suspicious activity in south Laredo. According to a statement from CBP, agents responded to a report of a gray tractor-trailer loading up several individuals near a business on State Highway 359.

Agents searched the area and apprehended 33 people in the cab and trailer of the vehicle. The individuals were in the U.S. illegally from the countries of Mexico, Guatemala, Honduras, El Salvador, Ecuador, and Nicaragua. Most of the individuals were not wearing any personal protective equipment (PPE). All were provided PPE, medically screened and taken into custody. (source)
The trend of border crossing has never disappeared, and it will likely not be any worse under the Biden administration than the Trump overall. However, one should expect as a trend the issue to become far more politicized and more attention given to it, as it may become, as it has before another 'rallying point' for political agitators.