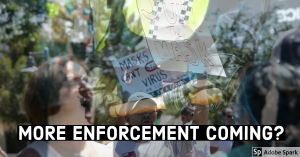 The COVID-19 coronavirus has caused a split among many people, with a large number resisting the wearing of masks or social distancing. Enforcement of it has been sporadic, inconsistent, and mixed in many cases. However, as Bloomberg Law reports, it appears some municipalities are intending to push down harder on enforcement of said regulations.
They tried the proverbial carrot, but it wasn't enough. Now, governors and city leaders who want people to stay six feet apart, wear masks, and change their business practices to slow the spread of the coronavirus are turning to the stick.

Faced with surging case numbers, defiant businesses, and quarantine-fatigued residents, some officials have increased enforcement efforts throughout the country.

A California county, for example, this week approved penalties of as much as $10,000 for businesses violating Covid-19 public health orders. In Arizona, liquor licenses at one gym chain were suspended for refusing to close as the governor directed.

Michigan Gov. Gretchen Whitmer (D) on Friday ordered that people who don't wear a face covering be fined up to $500, even in parts of the state where most businesses have been allowed to reopen.

In New Mexico, Gov. Michelle Lujan Grisham said July 1 that she wanted to enforce a mask mandate with peer pressure over punishment, but "that isn't working."

"So now we're going to do enforcement and hold people accountable," Lujan Grisham (D) said, announcing a $100 fine for violators.

Washington Gov. Jay Inslee (D) has focused on the moral responsibility to family and community to mask up. Along with a new order Tuesday extending mandatory masks in all indoor public places to be enforced by businesses came a new refrain: No mask, no service.

"If people are not wearing a mask, simply don't ring up the sale," Inslee said at a news conference. "This is a key to keep businesses open."

Those who don't comply can face civil penalties of up to $70,000 as a workplace violation. Violating a gubernatorial proclamation carries fines of up to $5,000 and nearly a year in jail, Inslee Press Secretary Mike Faulk said.

Enforcement Key
In Ohio, the Columbus City Council on Monday passed an ordinance adding penalties ranging from $25 for individuals to up to $1,000 for businesses for violating Mayor Andrew Ginther's mask mandate. The move contradicts Ginther's (D) initial stance that police wouldn't fine violators, though he Tweeted support for the changes.

The cities of Santa Monica and West Hollywood in California announced July 2 that they would strengthen mask mandates and add penalties ranging from several hundred to several thousand dollars for violators.

Experts say the tougher approaches need to protect both public health and individual rights. Still, the government's ability to enforce orders during an emergency is key, said Leila Barraza, associate professor of public health at the University of Arizona.

Voluntary compliance is ideal, but states must consider hospital capacity and the virus spread when considering stronger measures, Barraza said. Violations of closure orders without consequences can render the orders ineffective, she said.

"If there is no enforcement, people see that," Barraza said.

Some fear fines and citations can do more harm than good. Violators may not understand why they need a mask, might not own one, and could struggle to pay a penalty, said Lisa Foster, co-director of the Fines and Fees Justice Center.

"There's no evidence that fining someone $1,000 changes behavior," she added. (source)
It will be interesting to see the response of the public, and in what areas of the country to this, especially given the divided political and social climate.